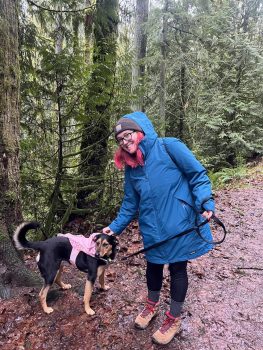 For my first blog post, I thought it would be a good idea to introduce myself. My name is Meg Bender-Stephanski, and I am an intern with EcoFaith Recovery who is working alongside the Eloheh Indigenous Center for Earth Justice. I graduated from the University of Portland in May of 2021 with a degree in Environmental Ethics and Policy and minors in Social Justice and Theology.
I was raised methodist in San Francisco, CA and both of my grandmothers were ministers. I went to an all girls Catholic high school in San Francisco where my love for theological studies flourished. Although I do not identify as religious at this point in my life, I know so many of my values and foundational experiences have been rooted in my spiritual beliefs. While in college, I referred to my theology minor as what I was doing for fun academically, as I really enjoyed theological studies. I had a multitude of professors who challenged me and opened my eyes to new ways of thinking and framing theology and spirituality. In 2021 an essay of mine, titled "Chronic Illness and the Anointing of the Sick," was published in the peer-reviewed journal, Theta Alpha Kappa. This essay was written for a course with Dr. David Turnbloom titled Liturgy and Ethics that I took in the fall of 2019. Dr. Rachel Wheeler also became an important mentor to me during my time at UP, and I took several classes with her that reflected on a variety of Christian spiritualities as well as eco-spirituality. We also participated in a research project together for 2019-2020 in which we looked at the concept of eco-ableism and how Catholic Social Teaching could help to remedy it.
After graduating this year, I struggled for a long time in my job search. I wanted to do work I was passionate about and saw meaning in, while also being able to support myself to continue living in Portland. Eventually I ended up with a full time Americorps position that is truly teaching me a lot about what I want to do moving forward, as well as what kind of impact I want to have in my community. Although I have struggled at times with what I identify as religiously or spiritually, I have found myself drawn to organizations that are rooted in spirituality, such as EcoFaith and Ecumenical Ministries of Oregon (EMO). I was able to participate in an internship with EMO the summer of 2020 where I helped create virtual environmental justice programming as well as helped support their public policy advocacy. Once I started my time with EcoFaith, I was incredibly excited to see that this organization partners with and works with EMO often.
I still find myself discerning what I am hoping to gain from this experience with EcoFaith. As someone currently working for poverty wages in my full time role and simply existing during these difficult COVID times, I've found myself struggling to look toward the future and for a broader vision. I am hopeful to build relationships with EcoFaith leaders, reflect on my spirituality, and help EcoFaith strengthen its relationships with Eloheh, EMO, and all of you who engage with us. I am hopeful that I can give my perspective and insight and background to EcoFaith and contribute to important conversations. Even when things are difficult, I try to remain hopeful. Leaning into hope and away from nihilism is so important, especially in relation to climate justice. I believe hope is radical, and a lot of the work being done both at EcoFaith and Eloheh build upon this. Thank you for taking the time to read a bit more about me, and I look forward to sharing more about myself and my time with EcoFaith.
Meg Bender-Stephanski (she/they) and is a recent graduate from the University of Portland, where she received a B.A. in Environmental Ethics and Policy, with minors in Social Justice and Theology. Learn more about Meg here.
---
To sign up to receive these blog post directly to your email account, click here or on the link in the upper right sidebar of any page at ecofaithrecovery.org.
Please feel free to share this post with others and use the field below to post your thoughts on this topic. You can also find out more about our internship program here. Thanks!
Meet Meg Bender-Stephanski Ecofaith's New Intern