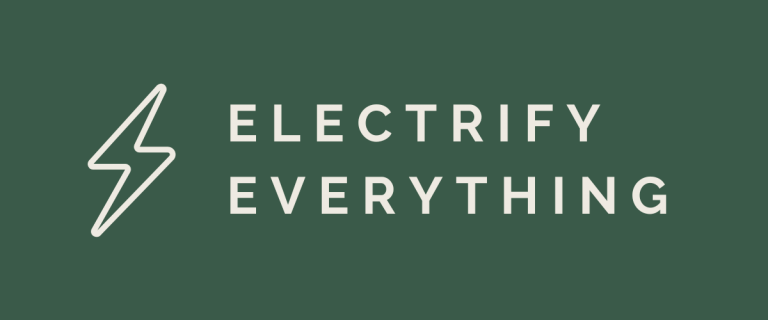 Join with EcoFaith Recovery communities in our campaign to promote electrifying everything and everyone: our buildings, our homes and our vehicles. Start by holding an 'Electrify Everything and Everyone' presentation for your community. We'll make it really simple: all you need to do is pick a date and a venue, coordinate with our leaders using our form, and get people to show up!
Local expert speakers will provide most of the content for the presentation. Our experts will share how and why to make your own electrification plan. They'll cover electric heat pumps for water and home heating (and cooling, too!). They'll also present about induction ranges, electric vehicles, community solar, options for renters, and newly available federal and local resources to help cover up-front costs.
Electrifying our buildings and our transportation is important for its climate, human health and economic benefits. Climate and energy experts agree that transitioning our electric grid to renewable sources and using that clean electricity to power our lives is a critical action that we can take to address climate change. These same actions improve indoor air quality, make safer and more comfortable buildings, and reduce energy costs. It's important to start now, while we make the transition to clean electricity generation at the same time.
The goal of our campaign is to hold educational presentations for all of our communities to raise awareness and get families to start their electrification journey. We also encourage congregations to begin the process of electrifying their church buildings.
Organize your community with these three easy steps. See our leader's guide (link below) for more detail.
Pick a date at your venue

Coordinate with our leaders

Get people to show up
Ready to get started? Sign up to host an event today! Click this button to request a date for your event.
Not sure what you are getting into?
Come to one of the events happening in our community. Meet the experts that will be presenting and get ideas for what your event might look like!
Riverside UCC (317 State St, Hood River, OR)
October 3rd 2023
Dinner at 6:00 pm, presentations start at 6:30 pm
Electrify Portland Fair! (The Redd 831 SE Salmon St, Portland, OR)
October 7th 2023
11 am to 3 pm
Spirit of Grace (7400 SW Scholls Ferry Rd, Beaverton, OR)
October 29th 2023
10:45 am
Hybrid Zoom and In-person event
Central Lutheran Church (1820 NE 21st Ave, Portland, OR)
Nov. 5th 2023
12:00 to 1:45 pm, light lunch provided
If you are interested in joining any of these events email office@ecofaithrecovery.org and we will make sure you are on the RSVP list!