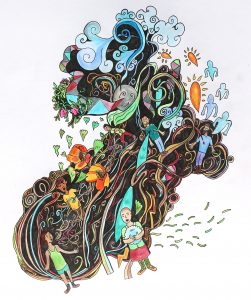 Personal
We discover the power of our own stories, and the ways our stories have been shaped by the land as well as our cultures, economies, religious traditions, political systems, and personal and collective histories.
Interpersonal
We discover the transformative power of our stories by sharing our stories with others, and inviting others to share their stories with us, paying special attention to peoples and creatures whose stories have been silenced.
Community
We discover common interests and the public dimensions of our stories through organized, focused listening seasons within and between our communities.
Public Sphere
We discover our collective power by sharing our stories in the public arena to develop as community leaders and advance human and environmental justice.