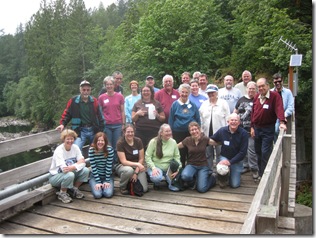 EcoFaith Recovery is a faith-based leadership development effort grounded in Portland, Oregon and expanding to other parts of the Pacific Northwest. We seek wisdom from the traditions of Christian faith, relational organizing, and 12 step recovery for the purpose of revitalizing congregational ministries to make a lasting difference for the healing of the world.
We welcome all who seek recovery from societal addictions to unsustainable ways of life including the destructive mythologies of consumerism and unlimited economic growth. Together we come out of isolation and denial to recover our relatedness to God, ourselves, one another, our watersheds, and the entire Earth community on which our lives depend.
By seeding and nurturing eco-spiritual practice groups within existing faith communities and sponsoring Leadership Development Initiatives through which leadership teams collaborate across congregations, we rediscover our spiritual/relational power to cultivate the integrity, resilience, and beauty of human communities and all creation.
Through this process, we intentionally develop our leadership capacities while equipping our faith communities to lead in the recovery of our cultural practices, economic systems, and political processes.
These videos made by EcoFaith Intern Elizabeth Herzfeldt-Kamprath give an overview of some of our Initiatives:
Internship Initiative
Organizing in the Biocommons
River's Lament
Simply In Season
What is happening among us?
Together we are waking up to the profound ecological-economic-spiritual crisis we are facing on the planet.
This crisis is manifest in our most personal stories, in our most beloved institutions, and in the most global issues of our time.
We are here to discover together the deep causes of this crisis, as well as the deep spiritual and communal resources that enable us to re-imagine and re-create new, life-giving institutions and ways of being, even within the crisis.
This process of discovering the causes of and resources within the crisis is what we call going into "eco-faith recovery." We do that work of "recovery" and "discovery" in community and in as many ways as our collective power and imagination can create.
Click out the About Us page to find out more about the powerful work of EcoFaith Recovery.