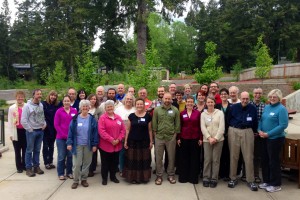 We are EcoFaith Recovery.
We are a broad network of volunteer leaders and faith-based communities in the Pacific Northwest who are:
recovering our true vocation as people of faith and citizens of earth;
restoring our sanity in the midst of an addictive culture and economy;
reconciling a right-relationship with all of creation, including all human communities;
rediscovering courage to rise up with the most vulnerable and oppressed in the face of human systems that escalate injustice and climate change;
reclaiming our prophetic imagination for the flourishing of an earth-honoring and life-honoring faith, economy, and culture.
We are EcoFaith Recovery.
And we are recovering.
Thank you for visiting our website to learn more about us. EcoFaith Recovery exists to identify existing and emerging leaders, develop our leadership potential as congregational teams engaging in EcoFaith's Practices for Awakening Leadership and lift one another up to support our faith communities in taking courageous public action for the recovery of human life and the healing of God's creation.
The heart of EcoFaith Recovery are our  "Practices for Awakening Leadership" which our volunteer leaders are developing together over time. Check out the current version in which we are engaged through the Initiatives of EcoFaith Recovery and with our own congregational teams at this link. After vsiting our website, we hope you will sign up to participate in one of the gatherings sponsored by our various Initiatives. Please also consider joining us as and EcoFaith Member, Journeyer or Friend.
EcoFaith Recovery is a faith-based leadership development effort grounded in Portland, Oregon and expanding to other parts of the Pacific Northwest. We seek wisdom from the traditions of Christian faith, ecology/eco-justice, relational organizing and 12 step recovery for the purpose of revitalizing congregational ministries to make a lasting difference for the healing of the world.
These videos made by EcoFaith Intern Elizabeth Herzfeldt-Kamprath give an overview of some of our Initiatives:
Internship Initiative
Organizing in the Biocommons
River's Lament
Simply In Season
What is happening among us?
Together we are waking up to the profound ecological-economic-spiritual crisis we are facing on the planet.
This crisis is manifest in our most personal stories, in our most beloved institutions, and in the most global issues of our time.
We are here to discover together the deep causes of this crisis, as well as the deep spiritual and communal resources that enable us to re-imagine and re-create new, life-giving institutions and ways of being, even within the crisis.
This process of discovering the causes of and resources within the crisis is what we call going into "eco-faith recovery." We do that work of "recovery" and "discovery" by coming together in congregational team, participating in EcoFaith Initiatives, collaborating across a diverse aray of ecumenical churches, and in as many ways as our collective power and imagination can create.
Click out the About Us page to find out more about the powerful work of EcoFaith Recovery.