As people of faith, our growth and successes are often subtle and hard to see. We don't graduate from schools as students do, or get promoted as employees do, or post record-breaking profits as corporations do.
But right now, we in EcoFaith do have a success to celebrate, or actually, several.
Portland Clean Energy Fund (PCEF) is virtually certain to make the November ballot, having gathered more than 50,000 signatures  (combined paid and volunteer). Social justice and climate stewardship, which are foundational to our progressive faith, are wedded in this ballot initiative.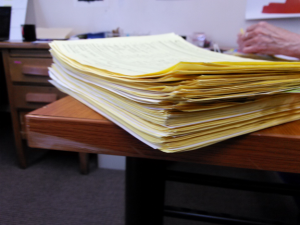 EcoFaith has surpassed our goal of gathering 2,000 signatures (see photo below) for the Portland Clean Energy Fund (PCEF). We are among the top signature contributors of the non-profit groups, despite being among the smallest of those groups.
Moreover, we succeeded by steadily accessing spiritual power (Practice 1)acting together (Practice 5),  
We acted not just with each other in EcoFaith, but in partnership with many groups that share our values, such as NAACP, Verde, 350PDX, Sierra Club, Coalition of Communities of Color, Climate Jobs and more. As a colleague from one of those groups said,
"The relationships we are forming, and who we end up becoming to each other, mean that we win, regardless of whether voters pass PCEF in November".  
Contributors to EcoFaith's gathering more than 2,000 signatures

(in no particular order; please tell me if I've missed anyone):
*Scott and Rosalind from Waverly Heights U.C.C.
*Chris and others from Central Lutheran
Solveig from Wilderness Way
*Ed, Linda, Tyler, Caroline and Claire from St. Ignatius Catholic Church
Emily and others from First Unitarian
Vern and David from St. Luke Lutheran Church
*Gloria from Tabor Heights Methodist
*Suzan from Westminster Presbyterian
Carol from Ainsworth U.C.C.
*Carl from Hillsdale Community Church (U.C.C.)
Kristi and others from Augustana Lutheran
*Barbara, Susan, Brian and Alison from Lincoln St. Methodist
*Asterisks indicate folks who've also worked in the Validation office, the PCEF office, or as a courier, for an EcoFaith total of several hundred hours of service above and beyond the gathering of signatures. This is strong faith-in-action, the best kind of success.
Part 2 of getting PCEF passed still lies ahead of us in the months before Election Day on November 6. The summer/fall campaign will involve voter education, gathering pledges to vote for PCEF, house parties/fundraising, and for EcoFaith, outreach to faith communities. More to follow. Many of us are doing some Renewal (Practice 7) before resuming campaign-work.
Key events coming up:
Thur July 12th, PCEF party at the PCEF office, 1821 SE Ankeny St., time TBA
Saturday July 14th, 9:30 a.m., monthly EcoFaith meeting, location TBA, with Zoom option.
Success in Reaching our Goals! Thanks to Those Who've Contributed!