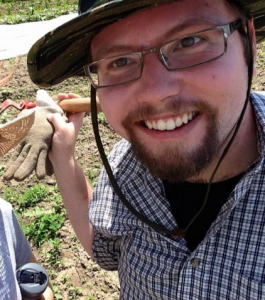 Bradley Charles Seibel is an undergraduate theology major at Marian University in Fond du Lac, Wisconsin. He never would have imagined that he would be pursuing ministry, but as with many others who have been called certain experiences in his life have brought him to the realization that social justice and the empowerment of all marginalized persons are his passions in life. He wasn't raised in a particularly religious environment by any means and his vocation is certainly cause for confusion within his circle of friends and family, but he continues along the path knowing that one day they will understand.
He has a radically ecumenical approach to ministry and wants to work with any and all people of faith and goodwill. For now, he works with various aspects of social justice within his community and finds himself connected to a broad spectrum of people doing a wide variety of justice work.
He has lived since a young age a very independent lifestyle. Having had to focus much of his efforts on basic subsistence, he has not been able to dedicate as much time to activism as he would like. He continues to do whatever he can, knowing that every little bit makes a big difference. Continuing his education with a Master of Divinity and then afterwards on to a doctorate will allow him the opportunity to combine his love for social justice with his career.
The project he works on for the internship with EcoFaith Recovery has undergone quite a lot of evolution and it continues to progress in ways beyond his wildest expectations. His plan is to develop a model for congregations of various faiths and denominations to form a group that works together for the maintenance of modest vegetable gardens. This will provide an abundant source of fresh, organic produce to local food pantries. He wasn't at all sure of how that was going to be done when he had the idea, but continually is given fresh perspectives, new insights, and relational connections that are going to take this idea off the ground.
He extends gratitude for EcoFaith Recovery for the inspiration the members and his fellow interns have given him and for the many wonderful people in his community that are going to make this possible. He is relatively a "newbie" to the spiritual and/or religious scene and so at first he doubted his capabilities but is quickly realizing that it is true that with God all things are possible.