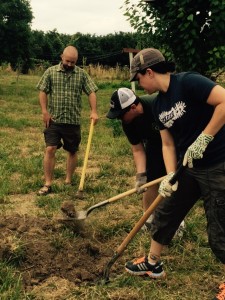 I've been thinking a lot lately about land. Mostly because my husband and I don't actually have any land upon which to actively do anything… plant, till, harvest, play. We're apartment-dwellers for now, with hopes of one day in our married life being partners in building relationship with the land we live on. When we were first dating and married, we talked about DIY projects, urban farming, maybe getting a few chickens one day… or a goat. His avid readership of permaculture instruction manuals even from the tiny student housing apartments we occupied in Berkeley, CA, was endearing. Mostly because it was one of many things he read about that I actually had never experienced before. To be sure, it felt as though gardening of any kind was an instruction manual that would have to wait until I actually had a garden I could experiment with.
Two years later, we are still apartment-dwellers but I have been slowly changing the way I feel about reading gardening manuals through my work and involvement with EcoFaith Recovery. I had the chance to have a one to one with Dave Pritchett on several occasions, and noticed that the way he talked about permaculture… forest gardening… a relationship with the land that was sustainable and intentional in a way different from raised beds in my backyard and a few chickens. He made it sound compelling. Easy, even. To move from thinking about sustainability as simply having food enough for our selves and our neighbors… to sustainability being about growing food in a way that is sustainable for both my self, my neighbors… and the land on which I am growing that food.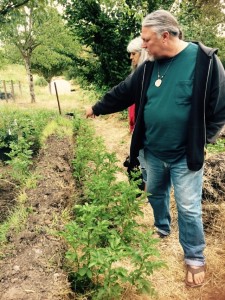 So my husband and I signed up for this Forest Gardening Workshop, having heard a little bit about Eloheh Farms and the Woodleys as well as knowing that Dave was telling stories and talking about things that I wanted to hear more of. Which we did. I know that there were a variety of reasons that folks came to the workshop, wanting to learn more about permaculture, wanting to see and experience the farm, being invited relationally by others. For me, this day was entirely about experiencing this seed of a new way of thinking about land. In a way that honors that no one should really own it. Because it is not ours to own. It is ours to be in relationship with. Ours to tend and to guard. With gardening, that means finding a way to grow things that does not strip the land of its nutrients, or waste the flow of its water. A way that allows all of the created beings connected with the land… bugs, bees, animals and humans… to be in the fullest form of relationship with one another that is possible. Where nutrients from animals fuels the growth of plants. Where plants that carry nitrogen are growing next to plants that use a lot of it from the soil. (Nitrogen, I learned, is important to keep in balance!) Where plants grow within and amongst one another rather than in neatly separated rows.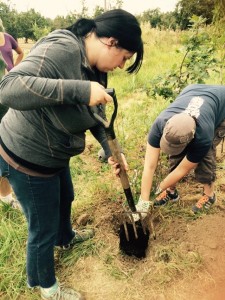 There was a lot of practical, nerdy, permaculture science learning that happened throughout the day. If you're looking for that, there are tons of books and websites.
Here's what those books aren't going to tell you: that even our relationship with the land and the plants we grow and harvest is not exempt from our call as people of faith to be One Body and One Spirit, as the apostle Paul urged the Ephesians. We are called to live in unity with all creation… and our gardening and our harvest is not exempt from that. For me, forest gardening, permaculture, is a way I see now as a possibility for living into that call more fully. Being in relationship with the land in a way that feeds and nourishes the soil and the seeds the same way the things I harvest from it nourish me.
About Sara: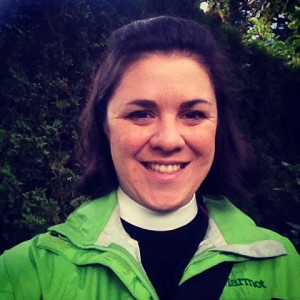 Sara Gross Samuelson is the second Intern Coordinator with EcoFaith Recovery. Sara Gross Samuelson is a native of Beaverton, OR and just graduated from Pacific Lutheran Theological Seminary this last spring. She is currently awaiting call as a pastor in the ELCA. Previous to her involvement with EcoFaith, she worked as the director of day camp ministry at Camp Lutherwood Oregon and taught 8th grade humanities in the Sherwood School District. Part of her pastoral internship included time at Interfaith Power and Light's national office in San Francisco, where the spark for the intersection of faith and ecology had a chance to ignite. In her time outside of EcoFaith work, she works as an instructor with local color guard and dance teams, substitute teaches and enjoys guest-preaching at local Lutheran churches around the Portland-Metro area. In her spare time, Sara enjoys spending time with her husband Josh doing outdoors-y things, going to the beach and home-brewing beer.
Forest Gardening Workshop Reflection by Sara Gross Samuelson