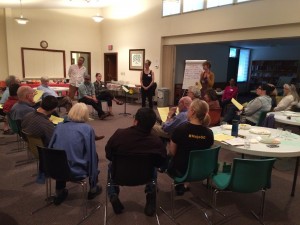 Interested in knowing more about Beyond Fossil Fuels Grounding for Action meetings? Want to share what they do with your congregation or community? Ecofaith Recovery's Beyond Fossil Fuels Initiative is featured on "Brethren Voices" May program.
Ed Groff and Brent Carlson, produce a monthly public access show that is distributed to 30 locations around the country, called "Brethren Voices". The show centers around the work of Church of the Brethren people or "things that Brethren care about" – peace, justice, climate, disaster recovery, service.
Ed and Brent attended a recent Grounding for Action meeting, and they got fired up about EcoFaith Recovery and Beyond Fossil Fuels work! Beyond Fossil Fuels, Ecofaith, and the Pembina organizing effort is featured in their May program of "Breathen Voices".
People included in the panel: LaVeta Gilmore Jones, Solveig Nilsen-Goodin, Chris Bekemeier, Craig Heverly, John Rodgers, and Matt Guynn.
Please consider showing this in your congregations (soon!) and opening up conversation about…
EcoFaith Recovery – who, what, and why it is, and how to connect
The propane terminal
The intersection of faith and climate action
Beyond Fossil Fuels Grounding for Action meetings – who, what and why they are, and how to connect or any combination of the above.
Tuesday, June 9
6pm
potluck
6:30-8:30
meeting
8:30-9pm
debrief
Central Lutheran Church
: 1820 NE 21st Ave Portland, OR
Ecofaith Recovery featured on "Brethren Voices"