Returning to the Rhythms of God: Waters of Justice
with Rev. Terry Allen Moe
When: Saturday, September 17th, 2016, Gathering at 9:00 a.m. Program from 9:30 am to 4:00 pm Program
Where: St. Andrew Lutheran Church  12405 SW Butner Rd, Beaverton, Oregon 97005
Costs: FREE & lunch included
RSVP by: Wednesday, September 7th, 2016
The team from your faith community will be invited to:
Return to the flowing rhythm of God's justice in Scripture and history;
Reflect with others on the role of justice in our lives and in the life of the church;
Discern and pray that we would more deeply strive for justice and peace in all the earth individually and collectively;
In light of the profound limitations of the service model of church, imagine church as communities organizing for justice.  Please download and read the three articles posted below.
This retreat is co-sponsored by EcoFaith Recovery and St. Andrew Lutheran Church and offered at no cost to participants due to a Lilly Grant St. Andrew Lutheran Church received designating monies for this purpose. An overview of all three retreats is here.
Although you may attend this retreat as an individual, it will be much more beneficial if you attend as a team from your faith community. At certain points we will be asking you to gather with others from your faith community team to discuss what next steps you may want to take together in your setting.
Please help us invite others by sharing this flyer with people you know who might be interested and asking that it be publicized in your community's announcements. Thank you!
About Rev. Terry Moe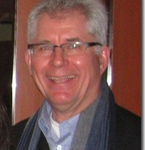 Rev. Terry Allen Moe was pastor of Redeemer Lutheran, NE Portland 1981-2013. He currently is on call from the Oregon Synod, ELCA as Director for Transformational Leadership through IAF Northwest. His training in Spiritual Direction and his passion for community organizing based in Industrial Areas Foundation has led to thirty years of pursuing connections between prayer and justice. In 1998 he completed a Doctor of Ministry program at Weslely Theological Seminary in Washington, DC called, "Spirituality and the Suffering of God which further helped this integration. Through co-leading classes with a Buddhist co-teacher, including Thich Nhat Hanh/Thomas Merton, Joanna Macy/Thomas Berry and others, he began to contemplate the concept of "engaged spirituality. He now sees the threat of global climate change as the most pressing social issue that must be addressed through an engaged spirituality which has at its base prayer and justice. His current work is to build leadership cohorts rooted in congregations in towns and cities across Oregon that will build leadership for local action and revitalize civil institutions.