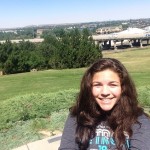 Michelle is working and collaborating with our other high school interns Chase Isaacson and Haylie Isaacson on the Returning to the Rhythms of God retreats offered throughout 2016. Below is her reflection on the first retreat "Listening for God's Heartbeat in the Wilderness of Lent" that took place on Feb 27, 2016 at St. Andrew Lutheran Church.
Getting ready for the first Ecofaith retreat was really nerve-racking. We only had a couple of weeks to prepare and two face to face meetings to go over logistics and dig deep into the schedule for the day. However, when we all got together and started coming up with ideas, and working through everything I started to feel less and less nervous. Finally, the day came. We set all the tables with candles and seeds we found in the closet, made an altar out of nature from the Sanctuary of the Firs, and went over one last time what we were going to say.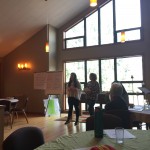 This retreat could not have gone more perfectly. Everyone was excited, engaged, and open to new practices. I think they really liked the discussion of the bible texts and the one-to ones. I know I did. I think my favorite part of the whole retreat was getting to go down to the lake area for awhile and sit and listen to God's creation. I don't do that very often but I realized how much I missed sitting back in silence.
Overall, this retreat was so much fun, and I'm so happy and blessed to have been apart of it. One change I would make is definitely have more time for mediation after lunch. But otherwise it was a great experience. Can't wait for the next one!
Michelle, Chase Isaacson and Haylie Isaacson will be at the retreat "Breathing In, Speaking Out, and Watching for the Wind" on April 9th with Bp. Dave Brauer-Rieke of the Oregon Synod ELCA.
________________________________________________________
To sign up to receive these blog post directly to your email account, click here or on the link in the upper right sidebar of any page at ecofaithrecovery.org.
Please feel free to share this post with others and use the comment field below to post your thoughts on this topic. Thanks!
EcoFaith Lent Retreat Reflections by Intern Michelle Piscitelli