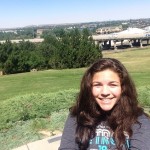 EcoFaith Recovery Intern Michelle Piscitelli is working and collaborating with our other high school interns Chase Isaacson and Haylie Isaacson on the Returning to the Rhythms of God retreats offered throughout 2016. Read her reflection on the first retreat here.
Below is her poem on Breath from the second retreat "Breathing In, Speaking Out, and Watching for the Wind" that took place on April 9th, 2016 at St. Andrew Lutheran Church.
Breath
My mom taught me to slow down when life is getting to fast and breathe. To take a breath. One in, one out, one in one out.
To feel my heartbeat as its rapid pace, slows down to a steady *bump bump bump bump bump bump*. For me breathing does more than just supply me with life. It supplies me with the breathe of life.
It connects me closer to God as I know when I breathe in he breathes in too. That I am a co-creator with him. I am given life and with that I supply it. In the trees, the plants, the animals. That I can only breathe this air because Jesus sacrificed himself for me and my sins.
I breathe in good energy and motivation to go for my dreams.
I breathe out negative thoughts and discouragement.
I breathe in the hope for a better world, I breathe out the people that try to make it a fearful one.
But I do breathe in my mistakes and things I have done wrong. I then breathe out words of kindness and love.
Love of my neighbor, love of my community, love of God. My breath grounds me to who I am. Without it I panic, with it I am calmed.
Just like my faith and how I feel towards God. Without Him I am panicked and with Him I am calmed.
________________________________________________________
To sign up to receive these blog post directly to your email account click here or on the link in the upper right sidebar of any page at ecofaithrecovery.org.
Please feel free to share this post with others and use the comment field below to post your thoughts on this topic. Thanks!
"Breath" by EcoFaith Intern Michelle Piscitelli