HOW-TO LEAD A CLIMATE JUSTICE FILM DISCUSSION:
The Human Element – EcoFaith Watch Party & Film Discussion Modeling
– 2020 EARTH DAY EVENT –
FILM DISCUSSION

RECORDING
FILM DISCUSSION SCRIPT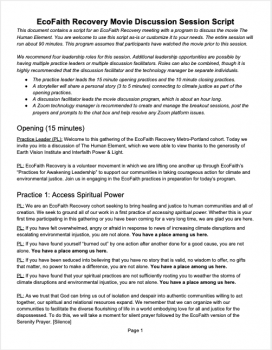 [aio_button align="center" animation="pulse" color="green" size="small" icon="none" text="Download Script" relationship="dofollow" url="http://www.ecofaithrecovery.org/wp-content/uploads/2020/04/EcoFaith-Recovery-Movie-Discussion-Script.pdf"]
---
????? ??? ?? ??? ???? ????? ?????? ???? ?????.
Special thanks to EcoFaith Leaders

Scott Shurtleff

(of Waverly Heights UCC, Portland) and

Michael Heumann

(of Havurah Shalom Synagogue and Metropolitan Alliance for Common Good, Portland) for creating the film discussion script and leading our discussion event!
---
Wednesday, April 22nd
Zoom Watch Party
 4:00pm PST 
(5:00 p.m. MST; 6:00 p.m. CST; 7:00 p.m. EST)
Film Discussion on Zoom
 5:30pm PST 
(6:30 p.m. MST; 7:30 p.m. CST; 8:30 p.m. EST)
Via Zoom video conference
Earth Vision Institute and Interfaith Power & Light are providing a free online screening for the feature film The Human Element April 17 — April 26. Environmental photographer James Balog captures the lives of everyday Americans on the front lines of climate change. With rare compassion and heart, The Human Element relays captivating stories from coast-to-coast, inspiring us to reevaluate our relationship with the natural world.
SCREEN WITH YOUR COMMUNITY
You can sign up to receive the link through InterFaith Power & Light by going HERE. This screening also comes with a Screening Kit by IPL, with promotion material and discussion guide (click HERE for Screening Kit). Limited time free screening is only available April 17th – 26th. Make sure to sign up and spread the word.
Watch the film, then come together for a group discussion using an online platform such as Zoom. You can model your session on our EcoFaith Recovery's Earth Day session. Register your community here by April 22.
JOIN ECOFAITH WATCH PARTY
Watch The Human Element on your own, or join our Facebook watch party for the film at 4 PM PST/6 PM CST. EcoFaith Recovery will host a follow-up Zoom discussion about the film on April 22 at 5:30 PM PST/7:30 PM CST.
ECOFAITH FILM DISCUSSION
After you personally watch the film or join us for the watch party, EcoFaith Recovery will host a follow-up Zoom discussion about the film on April 22 at 5:30 PM PST/7:30 PM CST. Join us as we engage in the Practices and ask thought-provoking questions to illuminate God's Creation and climate justice. This discussion will equip those that attend to host and lead discussions on this film in your community.
Everyone is welcome, whether you're a faith congregation member or simply passionate about climate change. As we maintain social distancing, let's uplift one another and reconnect with our roles in creating a more balanced world and engaging deeper in our own leadership development.
RSVP on EcoFaith Recovery to view the film together on Facebook at 4PM PST/6PM CST and/or join our post-viewing conversation on Zoom 5:30PM PST/7:30PM CST.
Participate in our Earth Day events! You can learn more on our website.
After Earth Day, utilize EcoFaith Recovery's model conversation to plan with your own community to meet and discuss The Human Element.