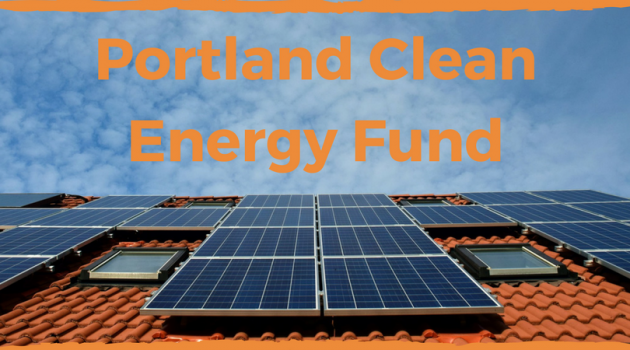 ---
PCEF Committee Appointments
Wednesday, September 25th from 3:30pm – 5:00pm
Portland City Hall
**Please wear green**
⫸ Look for the EcoFaith Recovery banner. ⫷
Let's show up as people of faith to the PCEF Committee Appointments meeting at Portland City Hall. Portland Clean Energy Fund is calling this the, "most important public action since the election."
Portland City Council will be appointing the first five members of the Portland Clean Energy Fund Grant Committee on Wednesday, September 25th at 3:30pm.
The PCEF Facebook event page has the link to the meeting agenda and more information: https://www.facebook.com/events/370136577272400/
Why: The City of Portland and Portland Clean Energy Fund (PCEF) community coalition have been hard at work together to implement the Portland Clean Energy Fund following its landslide, historic victory in November 2018. Now, each of the five City Commissioner will appoint one member of the very first grant committee that will be tasked with overseeing PCEF, releasing requests for proposals, reviewing applications, and making funding recommendations. This is a very important and exciting milestone, and it is essential that we show City Council that we are paying attention, we support moving forward on their appointments, and we expect them to keep the Portland Clean Energy Fund strong and implement it faithfully according to the will of the 65% of voters who approved it in 2018. This is our most important public action since the election, and critical to successful implementation! Wear green to show your support for green jobs and clean energy!
**Please RSVP on their event page as well**
---
Background on the Portland Clean Energy Fund:
Formerly the Portland Just Energy Transition Initiative.
Cities all over the world are taking the lead in responding to climate change. In the United States over 1,000 mayors (including Portland's) have signed the Mayor's Climate Protection Agreement. Since the election, it is obvious that we cannot expect the federal government to act on climate issues. The measure is an opportunity for Portland to become a national model for taking proactive measures to fight climate change while providing major new economic opportunities for low-income neighborhoods and communities of color.
Through EcoFaith Recovery's Beyond Fossil Fuels Initiative, faith communities are embarking on an exciting new strategy for organizing around this Portland Clean Energy Fund (PCEF) — a strategy that is…
● Spiritually grounded and Relational
● Ecumenical
● Supported with skilled coaching
● Rooted in EcoFaith Recovery's Practices for Awakening Leadership
Portland Clean Energy Fund Organizing
Read the latest Portland Clean Energy Fund Updates here
Participate in Monthly First Saturday gatherings with fellow leaders from other communities of faith: Email office@ecofaithrecovery.org for more information
Portland Clean Energy Fund Songs:
We Wanna Get P-CEF Passed
(tune of Hard Day's Night)
We're Talkin' About Passin P-CEF
(tune of Revolution by the Beatles)
Portland Clean Energy Fund Resources:
EcoFaith PCEF Phase 2 Campaign Framework and Strategy
Contact Office@ecofaithrecovery.org if you have any questions.