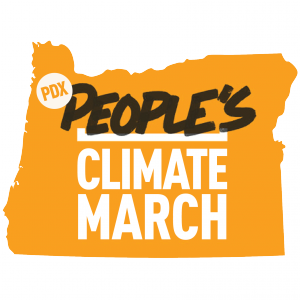 Bill McKibben has called upon all of us to engage in a historic grassroots mobilization called The People's Climate March in New York City immediately before the UN Summit on the Climate Crisis there. If you would love to be in New York but can't make it across the country, EcoFaith is inviting you to mobilize a team from your faith community to participate in the "People's Climate March in Portland" on Sunday, September 21st.
Just announced, new details below!!!
Go here for full day of details
Pre-gathering, 2:00pm The Wilderness Way Community, on behalf of the entire EcoFaith Recovery network, will be singing, drumming and teaching songs to prepare and inspire us for the march at St. James Lutheran Church, 1315 SW Park Ave, Portland.  This will be the place for congregations to gather so we can participate in this action together!
3:00 p.m. – Rally and march begins at Portland Waterfront Park's South Bowl, Portland, Oregon
Immediately Following the March location: St. James: 1315 SW Park Ave, Portland(on the SW corner of Jefferson). We will gather to join in our collective practice of reflection and evaluation of the event!
If you have not seen EcoFaith's vision for how congregation's can participate, click here to learn more about the People's Climate March in Portland.  When you are ready, please indicate your intention to join this effort by checking boxes below expressing all of the ways you are moved to participate:
In addition to any contributions you might be making to the New York or Portland Rally and March, EcoFaith Recovery would be honored to be the vehicle through which you participate in building our local movement for the recovery of human life and healing of God's creation. Thank you for helping us support and build the infrastructure that supports our incredibly volunteer leaders!
Click here if you would like to make a financial contribution to EcoFaith Recovery.
Click here to learn more about the People's Climate March in Portland.