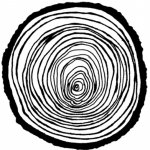 For your ease and convenience, you can choose a one-time gift or a sustaining monthly circle donation using the menus below. Just scroll down below. Thank you!
Just as a tree has rings of growth which sustain its life over time, EcoFaith Recovery's circles of support facilitate the organic growth of our movement and give it greater stability over time.
See The Impact for Your Contributions:

⬇ To donate now, please scroll down ⬇
---
MATCHING GRANT: EcoFaith will receive a dollar for dollar match up to $5000 on any of the following:
the entire amount of any first time contributions

the amount you contribute now which exceeds the amount you gave last year

new automatic monthly donations

 The total of all of your monthly gifts that you will have given by the end of 2018. For example, if you pledge $50/month, you will allow EcoFaith to access $650 (13 x $50) in matching funds!
any increase to your existing monthly donation. The total amount that the increase to your monthly gift will generate by the end of 2018 will be matched now.  For example, increasing your monthly gift by $10 per month now will generate $130 by the end of 2018.
Donations must be postmarked by December 30th or contributed via PayPal by 12/31 to be matched.
At 9:32 p.m. on December 31st we met our $5,000 Matching Grant Challenge!
Thank you to all who gave so generously in 2017!!!
---
Monthly Gifts - Protective Circle $5-$45 (per month)
Protective Circles
Monthly Gifts - Growth Circle $50-$110 (per month)
Growth Circles
Monthly Gifts - Regenerating Circles $125-$400 (per month)
Regenerating Circles
One Time Gifts
After clicking
the donate button
specify your
donation amount.
Mini Institute Donation
After clicking
the payment button
specify your
payment amount.
---
Mini Institute Donations are tax deductible and once submitted we will send you a receipt.