PREPARING
What to Wear and Bring:The high on Sunday is predicted to be 88 degrees. Dress for the warm weather, consider layers, wear comfortable shoes, and carry your own water supply with you. There will be no beverages or food vendors at the march. Maybe bring a reusable water container for yourself and another to give away or share! Seriously, please bring plenty of water and anything you might like to eat or share along the way.
* Morning: If possible, review the "Practices for Awakening Leadership." For EcoFaith Recovery leaders, this day is about grounding ourselves in these practices to take public action together for the healing of the world. Participate in worship, hopefully receiving a prayer of blessing from your community of faith during worship along with prayers for the global U.N. deliberations taking place in New York this week. Share lunch with your team before or after you travel by public transportation (or carpool if necessary) to St. James Lutheran Church. (See map below.)
[Out of Town Folks: If you will need to come from out of town and go directly to the March & Rally at 3:00 p.m., then driving and parking information can be found here. We hope you will try to join us at St. James Lutheran at 2:00 p.m. if at all possible.]
GROUNDING OURSELVES FOR ACTION
*2:00pm Pre-gathering at St. James Lutheran Church, 1315 SW Park Ave, Portland(on the SW corner of Jefferson): On behalf of the entire EcoFaith Recovery network,  the Wilderness Way Community, will be helping us get spiritually and relationally grounded for the march. With singing and drumming, we will connect with other people of faith, consider what gifts we hope to offer to the larger community of marchers, and learn songs through which the Spirit will inspire us both before and during the march. This will be the place for congregations to gather so we can participate in this action together! (Public transit directions to St. James are at the bottom of this page.)
*2:40: Walk down to Waterfront Park together We will walk 1/2 mile from St. James down to the Waterfront Park's South Bowl via Jefferson Street. St. James is on the corner of Jefferson Street which goes straight down to the march location on the river.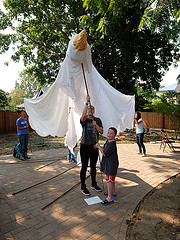 If you will be connecting up with us at the march, look for the giant white Peace Doves in the crowd of people courtesy of Multnomah Friends Meeting, shown at the left, photo by Kirby Urner. All people of faith are welcome to rally around the Peace Doves as we march together. Please bring signs or symbols made by your own community of faith demonstrating that people of faith believe God cares deeply about recovery for human life and healing for all of creation.
*3:00pm Rally – Gathering for the Rally begins at 3pm at the Tom McCall Waterfront Park. (Note that "Waterfront Park's South Bowl" is  just south of Hawthorne bridge @ SW Naito Parkway & SW Madison). [If you need information about dropping off people with mobility issues and parking, click this link and scroll to the bottom of the page. Otherwise continue reading below.]
*4:30pm Marchbegins from the South Bowl at Waterfront Park. We have been told that the march will go up north through Waterfront Park up to the Saturday market (at the Burnside Bridge) and then make a U-Turn and march straight back to "the Bowl," walking on the grass back through Waterfront Park. The entire out and back route will be 1.6 miles total with a slow pace being set by indigenous elders who will be leading the march. It is estimated that the front of the march will get back to the starting location at 5:30 p.m.and the tail of the march by 6:00 p.m.
REFLECTION, DEBRIEFING, AND GIVING THANKS
*5:30 – 5:45ish Walk Back to St. James Lutheran Church Sanctuary with your team where lemonade and some cookies, bagels, fruit, etc. will be waiting for you by 5:45 p.m. right there outside the door before you enter back into the sanctuary. (Thank you to Central Lutheran, St. Stephen in Gladstone, and St. Andrew Lutheran Beaverton for that!)
*6:00 Reflection and Evaluation at St. James Lutheran 1315 SW Park Ave, Portland(on the SW corner of Jefferson): We will reconvene to join in our collective Practice of reflection and evaluation of the event! This is the first step towards dreaming our next steps together as faith communities in relationship with one another enacting God's longing for the recovery of human life and healing for God's creation.
SENDING ONE ANOTHER FORTH
*Next Steps: 
1) Sabbath – Haring worked hard, we celebrate whatever happened and claim some time for Sabbath.
2) Saturday, October 11th Leadership Retreat at St. Andrew Lutheran in Beaverton. We will engage the Practices more deeply with one another and discern together how the Spirit is leading us to take public action for the recovery of human life and healing of God's creation. Sign up at this link by Sunday, October 5th.
3) Engage in One-to-One Conversations with at least two people (from our community of faith and/or from EcoFaith Recovery) about what this day meant for them before the October 11th retreat.
Public Transit Directions:
In the heart of downtown on the Park Blocks, it's easy to get to St. James via public transit:
Max Red or Blue lines:  Eastbound get off at Library, SW 9th & Yamhill, walk four blocks south on SW 9th/Park.Westbound get off at Library, SW 9th and Morrison, walk five blocks south on SW 9th/Park.
Max Yellow or Green lines:  Get off at SW 6th and Madison. Walk south to Jefferson and then walk  three blocks west.
Bus lines that run on Jefferson are:6 (Martin Luther King)45 (Garden Home)55 (Hamilton)58 (Canyon Rd)68 (Marquam Hill)
The Streetcar from NW Portland: Get off at SW 11thand Jefferson, walk two blocks east to St. James.
For more details and schedules check trimet.org