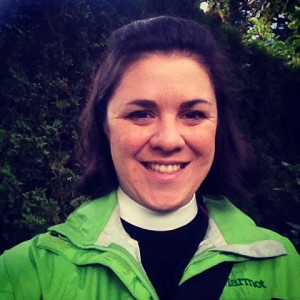 Sara Gross Samuelson was the second Intern Coordinator with EcoFaith Recovery serving from January 2015 – Oct 2015.
About Sara:
Sara Gross Samuelson is a native of Beaverton, OR and just graduated from Pacific Lutheran Theological Seminary this last spring. She is currently awaiting call as a pastor in the ELCA. Previous to her involvement with EcoFaith, she worked as the director of day camp ministry at Camp Lutherwood Oregon and taught 8th grade humanities in the Sherwood School District. Part of her pastoral internship included time at Interfaith Power and Light's national office in San Francisco, where the spark for the intersection of faith and ecology had a chance to ignite. In her time outside of EcoFaith work, she works as an instructor with local color guard and dance teams, substitute teaches and enjoys guest-preaching at local Lutheran churches around the Portland-Metro area. In her spare time, Sara enjoys spending time with her husband Josh doing outdoors-y things, going to the beach and home-brewing beer.
More on the Intern Coordinator Position:
The primary purpose of the Intern Coordinator is to promote the leadership development of EcoFaith Recovery interns, support them in inviting and organizing the forms of support and learning opportunities they most need, help represent EcoFaith Recovery to the interns and the interns to the whole of EcoFaith Recovery, help EcoFaith Recovery leaders imagine new ways they could learn from and engage the leadership gifts of interns, convene the EcoFaith interns so they can deepen their relationships and offer support to one another, connect EcoFaith Interns with others who could help advance their leadership development goals in specific ways, and recommend strategies for enhancing the internship program over time.