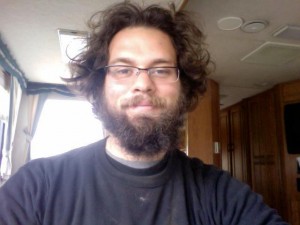 For his internship Matt explored the intersection of environmental justice, permaculture, theology, and social justice.
Biography on Matt:
I grew up in Muncie, IN spending most of my free time playing outdoors.  I was also fascinated by my grandpa's farm.  I remember getting lost in the woods and the scary sounds at night.  Mowing yards, playing outdoor sports, and working at a golf course were ways I kept myself outside.  After graduating high school I wanted to learn to be a farmer at Purdue University, apparently my grandpa's 300 acre farm was not going to stand up against corporate giants.  Without doing much research I gave up on that dream and decided to study turfgrass science.  Somewhere between reading Omnivore's Dilemma, my father's declining health, and my further inquiry into American agriculture I changed gears and ended up graduating from Cincinnati Christian University with an Intercultural Studies degree.
Toward the end of my time at CCU I discovered permaculture.  Permaculture is a branch of ecological design and agricultural systems focused creating regenerating systems patterned after nature. The three tenets of permaculture are care for earth, care for people, and returning the surplus.  It is vital the church address the local issues and its complicit guilt in the destruction of the environment. In order to reconcile, the church must acknowledge past wrongs, seek restitution, and sit at the feet of those that it harmed and be led.  In this case it is nature, and that is where permaculture comes in.  We need to look not only to the patterns of nature to understand what our lives should look like moving forward practically, but also theologically. That is my goal in life.  Projects I have planned are: How Eloheh Withstands a Zombie Apocalypse (with Redbird Woodley); humans, hummus, humility: sheet mulching as the theological practice of humility; Following Indigenous Voices to Bind the Strongman; and Body is to Earth is to Temple: Building Vernacular Structures.
I moved to Oregon to attend George Fox Evangelical Seminary as an M.Div candidate with a concentration in Christian Earthkeeping.  Over the summer I switched to the Intercultural Studies program which is led by the North American Institute for Indigenous Theological Studies (NAIITS). I am excited about that because the Native American community is a good example of a relationship the church has failed to reconcile.  My switching programs was a microcosm of what I hope to accomplish in the church also, let us be led by indigenous voices (who know the earth best) and other voices in the Christian community that have been previously abused and continue to be marginalized.  In conjunction with that I am working at Eloheh Farm, land which is stewarded by Randy and Edith Woodley.  Randy is a professor at George Fox and has written books you may be interested in.  I especially recommend Shalom and the Community of Creation. Eloheh will be the site of many of the activities integrating permaculture, practical theology, and indigenous culture.  I hope to see you at some of the events I have planned. Shalom!
Matt finished up his internship in May 2015.
Matt's blog posts:
Hello from EcoFaith Intern Matt Cumings – May 12, 2014
Three Sisters Will Heal the Land – May 29, 2014
Three Sisters Will Heal the Land: part two  – June 19, 2014
Capital Punishment: Spoken Word – Sept 2, 2014
Events connected to Matt's internship: