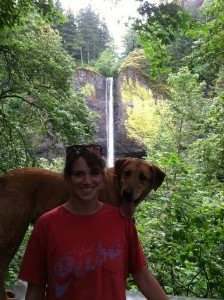 Hello and Happy New Year! My name is Kirra Hughes; I'm a new intern for EcoFaith Recovery and will be working with the Beyond Fossil Fuels initiative. My internship will consist of assisting BFF with short term and long term strategies, streamlining practices, and providing administrative support where needed. I'll also be helping carry out one-one-one conversations with those needing guidance and support on their journey of reducing their own fossil fuel use.
I'm relatively new to the Portland area, moving here from Nepal where I was doing my graduate research on women and suicide. I hold an MA in Conflict Transformation from SIT Graduate Institute and am looking forward to putting that skill set to use in the environmental field. In my other time, I work for a local NE Portland nonprofit, Create Plenty,  which focuses on reducing single use plastic in schools. Create Plenty's Director has been a member of EcoFaith Recovery for years.
I love the Northwest so far- even the cold, brumous winter! I attended high school and university in Florida so am constantly discovering all the new opportunities and activities that Oregon offers- including salmon and steelhead fishing, hiking, gardening, and the wonderful farmers markets!