Karen Bailey- Office Assistant/Special Project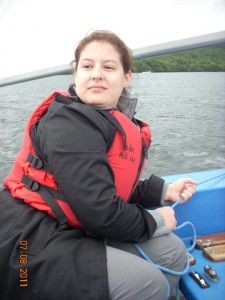 Karen Bailey is pursuing a graduate level certificate in Non-Profit Management at Portland State University. For a course in the governance of non-profits, Karen is creating a document for EcoFaith Recovery that could be used by future Core Team/Board Members to better understand EcoFaith Recovery's organizational history and programming. She hopes to continue using her course work on EcoFaith Recovery's behalf as the organization works toward becoming an independent 501 (c)(3). Karen was also recently hired to fulfill general office/secretarial responsibilities for EcoFaith Recovery.
Karen has been a member of St. Andrew Lutheran Church in Beaverton since moving to the area in 2009. She is a Lutheran pastor's kid, and was raised in four Lutheran parishes in the eastern U.S. She is an Honor's Scholar from the ELCA's Wittenberg University with a B.A. in Literature and Music. Karen is currently writing her thesis to complete a M.A. in Literature for Children from Hollins University, Roanoke, VA.
Karen is a self-employed violinist and violist, and became interested in the non-profit sector through violin teaching jobs in both Pennsylvania and Portland. At St. Andrew she is one of the volunteer leaders for the Three B's Women's Bible Study Group, volunteers in the church office, leads the Children's Chime Choir, and contributes her violin skills in worship leadership through solos, duets, and as a member of the congregation's sanctuary band.