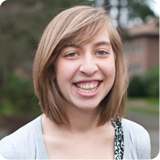 Elizabeth worked for Camp Lutherwood Oregon as the Communication Coordinator Intern. She spent her time living in the beautiful woods of the camp, just outside of Eugene, working on visually telling the story of Lutherwood, through marketing, social media, and other communications. She lived with three other interns who all focus on different parts of Camp Lutherwood.
A recent grad from Pacific Lutheran University, Elizabeth earned her degree in English Writing, with minors in Communication and Printing and Publishing Arts. Her professional experience was developed through her 4-year internship program, MediaLab, where she worked with clients to create and edit promotional videos. She also participated in the production of two feature documentaries focusing on the topics of oil in North America and compassion fatigue. Elizabeth is passionate about visual storytelling and is excited to have more opportunity to exercise her talents.
A large part of her internship will include this passion. Elizabeth was drawn to the EcoFaith internship because of the specific focus of video and media production that was called for. But through conversation and consideration her project with aim to connect the EcoFaith Community as well as tell and weave it's story through this time of discernment and outlook of the future of the organization. Elizabeth hopes to create a series of videos that briefly introduces some of the different elements of EcoFaith, additionally a video that connects and draws the community of EcoFaith together in one space. These videos will be useful in a variety of places, including the website, webinars, and even at conferences and meetings.
Elizabeth's videos: