As a banker and one of St. Andrew's treasurers, Brian Cheney knows well the power of compound interest. And as a recent MBA graduate from George Fox University, he's counting on that phenomenon to improve our world in big and little ways. A year ago, he decided to invite his friends and contacts to get out in the community and create something positive. Most people he talked to didn't come up with any ideas they could put their passion behind, but an old friend from high school—Hayley Carroll jumped on the idea.

For Brian, the challenge of climate degradation hit home with the massive wildfires that have plagued the Pacific Northwest. Hayley, a project manager with an engineering firm, was learning woodworking skills from her dad and building hexagonal structures perfect for mason bees. As they talked to discover what things they had in common, serendipity struck and they decided to create a program to share mason bees with the community.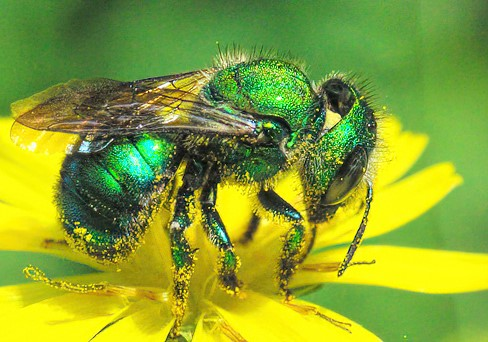 Mason bees are important pollinators that we depend on for food production. Brian and Hayley have an ambitious goal: to create an agricultural safety net with mason bees by 2025, when farmers may no longer to be able to count on bees from the wild to visit their orchards and fields. If that happens, food production will decline dramatically. Hayley handles the manufacturing end, while Brian looks after the business side of their partnership.

Working with St. Andrew's Community Carbon Yard Science Team, the pair have already installed five mason bee houses on the south and east sides of the garden shed. More will be placed around the property yet this spring. If you'd like to apply for a mason bee house at your home, contact Brian. After your bees hatch, they will go back to Brian and Hayley to be distributed to others in the area. For more information, go to www.morebees.org.
-by Carol Harker (Community Carbon Team Leader at St. Andrew Lutheran)
---
To sign up to receive these blog post directly to your email account, click here or on the link in the upper right sidebar of any page at ecofaithrecovery.org. You can also learn how to engage in our Community Carbon initiative here.
Please feel free to share this post with others and use the field below to post your thoughts on this topic. Thanks!
Counting on Compound Interest by Carol Harker Community Carbon Team Leader at St. Andrew Lutheran