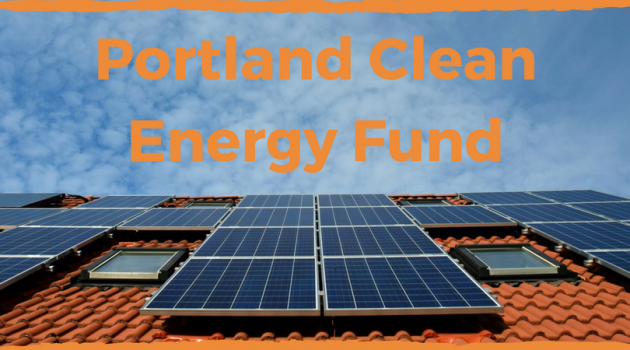 Background on the Portland Clean Energy Fund:
Formerly the Portland Just Energy Transition Initiative.
Cities all over the world are taking the lead in responding to climate change. In the United States over 1,000 mayors (including Portland's) have signed the Mayor's Climate Protection Agreement. Since the election, it is obvious that we cannot expect the federal government to act on climate issues. The measure is an opportunity for Portland to become a national model for taking proactive measures to fight climate change while providing major new economic opportunities for low-income neighborhoods and communities of color.
Through EcoFaith Recovery's Beyond Fossil Fuels Initiative, faith communities are embarking on an exciting new strategy for organizing around this Portland Clean Energy Fund (PCEF) — a strategy that is…
● Spiritually grounded and Relational
● Ecumenical
● Supported with skilled coaching
● Rooted in EcoFaith Recovery's Practices for Awakening Leadership
Upcoming Portland Clean Energy Fund Meetings:
April 7th (Partner Event)
Please plan to participate in the PCEF Volunteer Kickoff Meeting on Saturday, April 7th from 1 pm to 4 pm at Central Lutheran Church, 1820 NE 21st Ave, Portland. This is a PCEF campaign event where you'll have the opportunity to meet with other volunteers from other organizations, hear from City Commissioner Chloe Eudaly and get trained for signature gathering. The main program will run from 1 pm to 3 pm with an optional signature training class from 3 pm to 4 pm. Let's take this opportunity to meet our fellow volunteers and get trained in signature gathering!
April 14th 
Attend EcoFaith's next gathering of faith community leaders organizing their faith communities to engage in PCEF which will take place on April 14th at First Unitarian Universalist or via ZOOM. At that meeting we will ground ourselves more deeply in Practice #2, Develop Relationships and learn about signature gathering. If you are able to join us, please RSVP here: http://www.ecofaithrecovery.org/events-2/join-us/ 
Portland Clean Energy Fund Songs:
We Wanna Get P-CEF Passed 
(tune of Hard Day's Night)
We're Talkin' About Passin P-CEF
(tune of Revolution by the Beatles)
Portland Clean Energy Fund Resources:
Coming soon.
Contact Office@ecofaithrecovery.org if you have any questions.