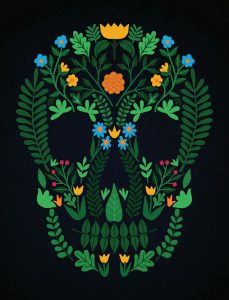 I spent the duration of my eco-faith internship exploring the intersections of my vocational interest in hospice and the wider mission of the eco-faith network to seek recovery and restoration in the midst of a destructive culture, and to reclaim our prophetic imagination and vision for a holistic life- honoring faith and way of community.
In a culture where the business of dying has become a professionalized, sterilized matter, and families and communities take the death for profit industry to be a given, often ignorant of their own legal rights and agency in the process of their own dying or the dying of a loved one, we find ourselves desperate for a reclamation of our agency. We have the capacity to transform this culture into one that remembers again the sanctity and intimacy of dying, empowering families and communities to shape
the decisions related to how we die, where we die, what rituals and conditions make that dying meaningful and how to honor the body in its cremation or burial.
The movement of death doulas and death midwives seek to ensure that these alternative
options are known and explored by individuals and families as they make the journey towards death so that the process is authentic and appropriate to each community's values and narratives, bypassing bureaucratic structures when possible and accompanying families in ways that ensure the process is treated with dignity and sanctity. The reach of the capitalist system has found its way even into our dying and many are unaware that there are options outside of these industries and practices.
The green burial movement is working to inform people of options that return our bodies to the earth in non-toxic ways that are mindful of the ecological systems impacted by the footprint of contemporary burial practices. One of the countercultural claims of the green burial movement is the assertion that what happens to a body after it dies actually matters. The bodies that make up the rich, material reality of our lives continue to be sacred once we have passed. These vessels that bear our love and pain deserve honor and intentionality as they transition into something new. The green burial movement focuses on ensuring that the ways bodies are treated in burial or cremation have a gentle ecological footprint and are mindful of the ecosystems the bodies are returning to.
We can look to rituals such as the jazz funerals of New Orleans, the Mexican holiday of Día de Muertos, and the triduum of All Hallows Eve, All Saints Day and All Souls Day as inspiration for ways that communities still claim public observance and expression of culturally and religiously specific ways to both celebrate and honor life, as well as creatively mark and grieve for the dead. We can join in the work of reclaiming rituals such as these as powerful narrative acts that re-inscribe the meaning of life and death in our communities, asserting their role as truth-telling displays, protecting them from cheap, appropriation and commercialization. Such displays of lament and celebration embolden us to take ownership of the stories we tell and practices we choose to mark the place of death in our communities.
Re-inscribing the Meaning of Life and Death (By Intern Adella Barrett)