Becoming Rooted: One Hundred Days of Reconnecting with Sacred Earth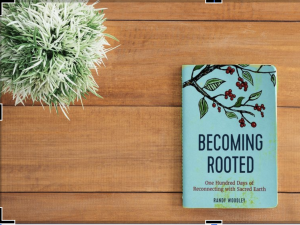 Have you read Becoming Rooted? We invite you to read and engage with this amazing text, written by Randy Woodley. His writing and reflections exemplify many of our shared values around the environmental justice, stewardship, and relationship to the land. You can order your copy today through Amazon or from your favorite local bookstore.
From January 12, 2022 to Earth Day thousands of people joined the Becoming Rooted Journey. Folks who joined the journey followed along on Randy Woodley's Facebook page and EcoFaith Recovery's Facebook page. Congregations around Oregon read Becoming Rooted and many engaged with its message during Lent. EcoFaith Recovery and Ecumenical Ministries of Oregon (EMO) organized faith communities to participate in this meditative journey with Randy Woodley.
Perhaps you heard the buzz from the many communities and small groups who engaged in reading "Becoming Rooted: 100 Days of Reconnecting with Sacred Earth" by Randy Woodley this past year through EcoFaith's partnership with Eloheh Indigenous Center for Earth Justice. It is not too late for you and your community to participate in this important and timely adventure! Gather your group or organize your community to begin the 100 day journey today.
---
Resources from January 2022 Becoming Rooted book launch
Use the resources below to help you form your own Becoming Rooted book group this fall. Gain deeper understanding of the the 100 day journey by watching Randy Woodley's Facebook live events from this this spring.
National – Organize Your Becoming Rooted Book Group & Order the Book
Beginning in January 2022, we invited you to share in an exciting 100 day journey towards becoming rooted in our sacred earth with Randy Woodley's new book as our guide. We offered various ways of engaging in this journey, ranging from monthly zoom sessions to discuss the book (Third Tuesdays), online interviews with the author, and a Facebook page dedicated to the book. You were also invited to form your own group to discuss the book. Copies of the book may be ordered here.
---
National – Follow Along with Randy's Facebook Lives
For the 100 days journey, Randy will be in dialogue with a variety of folks to highlight his work and perspectives in Becoming Rooted. Below you will find links to previous FB lives as well as upcoming events.