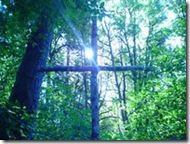 Saturday, September 24, 2011
EcoFaith Recovery partnered with Camp Lutherwood and the Lutherans Restoring Creation Training Team to hold an
Intergenerational Caring for Creation Day
at
                              Camp Lutherwood Oregon
Participants were invited to an intergenerational day of discovery, delighting and deepening their love for God's creation! Whether they were new to caring for God's creation or had been on the cutting edge, these individuals came to learn, share, and strengthen relational networks to care for God's magnificent world—right in the beautiful Oregon Woods of the Camp Lutherwood site.
Adults received training in the Lutherans Restoring Creation model for gracefully greening every area of their congregation's ministry. This Biblically grounded approach offered a positive process for participants to enable their congregations to incorporate caring for God's creation into every area of ministry including worship, education, building/grounds, home/work, and public ministry. Children and youth engaged in special hands-on activities to help them discover more about how they can care for God's creation. Intergenerational discovery activities helped us have fun together while learning about how to live more sustainably.
For more information on future opportunities of a similar nature, feel free to contact Andrea Scofield at andrea@lutherwood.org or Pastor Robyn Hartwig at 503-646-0629 x211, PastorRobyn@ecofaithrecovery.org.