EcoFaith Recovery is a movement of volunteer leaders supporting volunteer leaders with minimal part-time staffing support. Below are some of the many volunteer position descriptions that make it possible for our volunteer leaders to carry out EcoFaith's primary mission of organizing communities to take meaningful action using The Practices for Awakening Leadership. Click on any box below to learn more about any of the following one-time or ongoing volunteer positions with EcoFaith Recovery.
(To reserve a display table box, please click the button below)
(Sheet preview below, NOT editable. Please click button above.)
EcoFaith Display Tabler at Event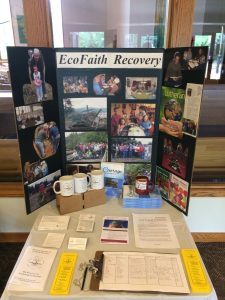 An EcoFaith Recovery Display "Tabler" is somebody who picks up an EcoFaith Display Table Resources Box, takes it to an event and hosts the a table as a way of providing resources and relational communication with those attending an event who might be interested in learning more about EcoFaith Recovery or signing up for the mailing list or an EcoFaith leadership development event. This is a role that may be carried out by one individual or shared among more than one person.
Supplies Closet Coordinator
[Add role description here and include explanation as to how this person interacts with EcoFaith's adminisrative assistant and how notifications happen that more supplies are needed and how they are provide and by whom.]
PCEF Co-Chairs
[Scott and Alison, could you please get us your understanding of your position description(s) so that we could post it/them here? Thanks!]
EcoFaith Office Volunteer
Although EcoFaith has no physical office, it has office type work (like printing, photo copying, and assembling that needs to be done each month). The office volunteer has 3 - 5 hours available each month to help with these tasks at a church which allows EcoFaith to use its photocopier and office space on an occasional basis. The Office Volunteer works with the direction of the Administrative Assistant to receive assignments of volunteer work that is needed and in order to accomplish these tasks.