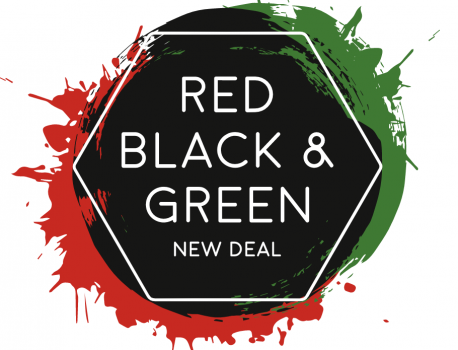 Every
fourth Thursday
from 8:45 am – 10:15 am our EcoFaith Leader's meeting has committed to joining the
Monthly Ally Briefing
 of the 
Red, Black, and Green New Deal
, led by the Movement for Black Lives. The 
Red, Black, & Green New Deal
 is a revolutionary platform that centers Black communities & Black visions for climate justice grounded in a national climate agenda for Black lives. This effort is a multi-faceted, multi-year project of the Movement for Black Lives anchored at the Gulf Coast Center for Law and Policy. will involve a discussion of how we can get involved and support this work.
Join others from the EcoFaith community who desire to be allies of the Red, Black and Green New Deal on fourth Thursdays as follows:
8:45 a.m. – Gather in EcoFaith's Thursday morning Zoom room for spiritual grounding and listen to one among us share a story of why this matters to them.
9:00 a.m. – We move over to the Red, Black and Green New Deal Zoom gathering. (Register for that separately at the link below)
10:00 a.m. – Return to the EcoFaith Zoom room for 15 minutes of reflection and planning next steps in acting together.
RSVP to the "mutual mentoring" meeting to join others from the EcoFaith network for this special opportunity! 
[aio_button align="center" animation="pulse" color="green" size="medium" icon="none" text="RSVP HERE" relationship="dofollow" url="https://www.ecofaithrecovery.org/events-2/join-us/"]
RBGND Ally Meeting: Every Fourth Thursday

Description of the ally gathering from the Red, Black, and Green New Deal organization:

"These calls are specifically for non-Black allies of the RBGND; if you identify as Black or African American or are representing a Black led organization, please be in contact with RBGND National Organizing Lead, Valencia Gunder (valencia@m4bl.org).

The Red Black & Green New Deal (RBGND) is a multi-faceted, multi-year project of the Movement for Black Lives anchored at the Gulf Coast Center for Law & Policy, which will develop and advance a national climate agenda for Black Lives. The RBGND will 1) educate, organize and catalyze Black Communities into the global movement for Climate Justice; 2) introduce and advance federal legislation to address the climate crisis and past environmental harms through federal investment in Black communities; and 3) build out a national network of Black climate advocates to join a global movement for climate action.

Questions from non-Black allies please reach out to emma@gcclp.org,
Questions from Black-identified leaders, please reach out to Valencia@m4bl.org or use this Black Leader form to join the RBGND Working Group: tinyurl.com/RBGNDJoin." 

Once you have RSVP'd to the EcoFaith Leaders meeting – please make sure to

also

register for the RBGND meeting beforehand to get the link:
---
LEARN MORE
[aio_button align="center" animation="pulse" color="green" size="small" icon="none" text="Red, Black, & Green New Deal Website" relationship="dofollow" url="https://redblackgreennewdeal.org/"]
[aio_button align="center" animation="pulse" color="blue" size="small" icon="none" text="White Supremacy Culture Characteristics" relationship="dofollow" url="https://www.whitesupremacyculture.info/characteristics.html"]
✦
The National Black Climate Summit Video
✦
Red, Black, and Green New Deal National Black Climate Agenda Document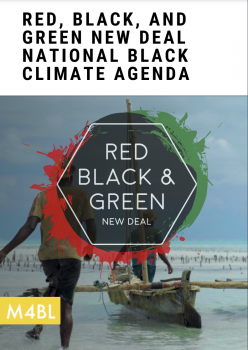 [aio_button align="none" animation="pulse" color="black" size="small" icon="none" text="Join a RBGND Work Group" relationship="dofollow" url="https://docs.google.com/forms/d/e/1FAIpQLSddVh1IOhM5Y0POsJpImlQTm–QLhYlp06qelf0H72IEhKRKQ/viewform"]
Questions? Please email Office@EcoFaithRecovery.org