A Morning  Workshop/Retreat for Preachers and Worship Planners
Tuesday, August 5 from 10am – 1pm
12405 SW Butner Road Beaverton, Oregon 97005
How do the things we are learning about ecology, economy, cosmology and justice inform our worship planning and preaching?
August 2014 Gathering:
Rev. Stuart Holland we lead us. His plan for the morning:
We'll cover the period from St. Lawrence to Holy Cross (10 Aug to 14 Sep). In the time between now and then I commend to your attention two interesting notes. The first is that Matt 13-14 (the Gospel readings for 13 Jul to 3 Aug) is very focused on seeds and weeds and wheat and 'eat.' The second is that the wheat harvest has started here in Eastern Oregon.

Thus our farmers are "bringing in the sheaves" as we preach about that "which makes the bread by which the souls of [all] are fed." (John Masefield).

Also of note is 20 July where creation is subjected to futility for redemption (Rom 8). This connects to John 3.16 (14 Sep) where God loves the cosmos by sending Jesus (yes, that is an accurate translation). So the cosmos is subject to futility, to "not achieving its telos/goal" as part of God's work to redeem the whole creation in Christ.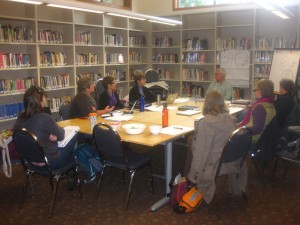 Cost – In order to compensate our presenters, we request a $25 donation from those who are under congregational call or otherwise employed. If you are not employed, in a call or if you have a financial hardship we invite you to simply offer what you can or contribute to this effort in some other way (bringing food, cleaning up, bringing supplemental resources to share, or whatever else you might desire to offer).
RSVP – Let us know you are coming! Register here.
Those who are unable to join us might appreciate the opportunity to check out the readings from the last two courses at this link.
The readings from this session will be posted as soon as available.