---
 Our Children's Trust, June 4th Rally
ACT Together in Support of Juliana v. United States and the future of our climate
Thank you for supporting the Juliana youth plaintiffs!!
On June 4th, thousands showed support for the 21 youth who went to court, fighting for a court ordered climate recovery plan and for their right to a future that doesn't include catastrophic climate change. Many joined in person at the rally shortly before and after the youths appearance in court and even more joined virtually to the live stream of the hearing. Below is a video of the hearing:
On June 4th an Interfaith Gathering of Faith Communities came to show support of the Juliana Youth Plantiffs
Sponsored by EcoFaith Recovery and Ecumenical Ministries of Oregon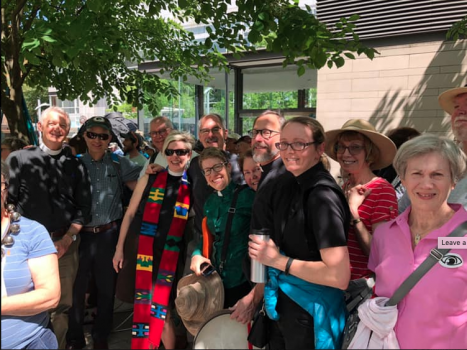 Faith community leaders at the June 4th rally showing support for the Juliana youth plaintiffs.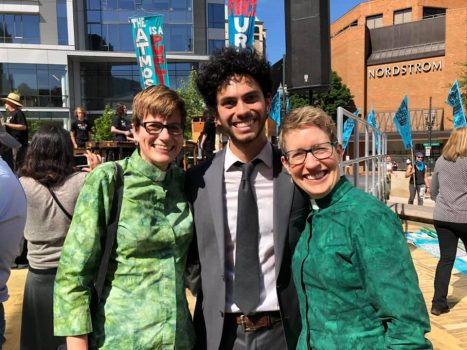 Thank you to Kiran Oommen, son of Oregon UCC minister Rev. Melanie Oommen for standing up for a climate that will support your life. EcoFaith leaders stand with you!!! www.ourchildrenstrust.org/kiran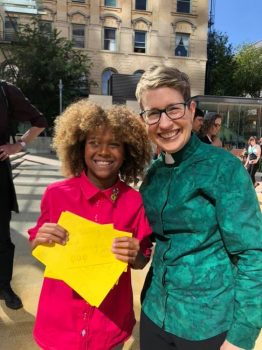 Delivering a stack of faith community prayer cards to the 21 youthvgov.org plaintiffs who had their next day in court today. Levi D., at 11 years of age, is the youngest among those suing the federal government for a climate recovery plan. Thank you to all who are praying, sending cards, and standing with these 21 courageous youth!
People of faith stood with the courageous youth fighting for their right to a sustainable future. We organized this effort in partnership with the Ecumenical Ministries of Oregon, not only to show up en mass as people of faith, but also to provide a faith presence to the rally programming in person and via a compilation of 29 videos from faith communities all over Oregon and the U.S. who stand with the Juliana plaintiffs.
Final Video Compilation
Our Children's Trust, the organization supporting the Juliana youth plaintiffs, will continue to collect videos of faith communities stating "[your organization's name] supports the Juliana youth plaintiffs." A compilation video was shown at the rally as a powerful and impactful statement. And Our Children's Trust can use these videos in their future efforts.
[aio_button align="center" animation="pulse" color="blue" size="small" icon="none" text="Submit Video File Here" relationship="dofollow" url="https://forms.gle/4hNvfeH9CXJL1WJ87″]
(You will need a Gmail account for link above ↑)
If no Gmail account, you can instead use the free large file emailing service called SecurelySend.
Please email office@ecofaithrecovery.org if you have any questions or trouble sending your video.
---
Background
In 2015, twenty-one children and teenagers filed the landmark climate lawsuit Juliana v. United States against the federal government for violating their constitutional rights by locking-in a fossil fuel-based energy system over five decades with full knowledge of the climate impacts it would have on current and future generations. The youth seek a court-ordered national climate recovery plan that will decarbonize our energy system.
The young plaintiffs' case will be heard by the Ninth Circuit Court of Appeals on June 4th in Portland, Oregon—a hearing that will determine when Juliana v. United States will proceed to trial.
Thank you to all of you who did the following as we invited you!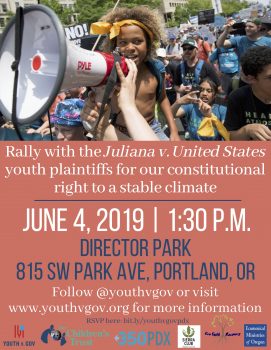 ---
Print Resources
[aio_button align="center" animation="pulse" color="green" size="small" icon="none" text="*New* Bulletin Insert" relationship="dofollow" url="http://www.ecofaithrecovery.org/wp-content/uploads/2019/05/Climate_Rally_2019-2up.pdf"]
[aio_button align="center" animation="pulse" color="green" size="small" icon="none" text="June 4th Rally Flyer" relationship="dofollow" url="http://www.ecofaithrecovery.org/wp-content/uploads/2019/05/Poster-June-4th-Ninth-Circuit-Flyer-3.pdf"]
[aio_button align="center" animation="pulse" color="green" size="small" icon="none" text="Our Children's Trust Flyer" relationship="dofollow" url="http://www.ecofaithrecovery.org/wp-content/uploads/2019/04/OCT-Flyer-2019-1.pdf"]
---
Eowyn Soran Explains Juliana v. United States
Eowyn Soran Answers Questions Regarding the Case
---