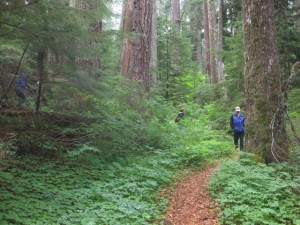 When: Saturday, February 27, 2016, 9:30 am to 4:00 pm
Where: St. Andrew Lutheran Church – 12405 SW Butner Rd, Beaverton, OR 97005
Costs: FREE & lunch included
RSVP: Friday, February 19, 2016
Note: We will be going outside for portions of this retreat so dress for mud/rain/whatever the Oregon weather is doing that day
Registration has closed – if you have questions or a special case email Office@ecofaithrecovery.org
EcoFaith Recovery invites you and your faith community to "Return to the Rhythms of God" through worship, retreats, and practice groups focused on this theme in 2016! The retreats will be held at and in partnership with St. Andrew Lutheran Church, Beaverton. An overview of all three retreats is here.
This retreat is offered at no cost to participants due to a Lilly Grant St. Andrew Lutheran Church received designating monies for this purpose.
About the Feb 27th retreat:
The first retreat is on Returning to the Rhythms of God by Listening for God's Heartbeat in the Wilderness of Lent.
Pastor Solveig Nilsen-Goodin and the Wilderness Way Community will invite us into biblical wilderness stories and the wilderness of St. Andrew's "Sanctuary of the Firs," as we listen for God's heartbeat in the wilderness of our own souls, our relationships, our faith communities and the public sphere. Please note there will be multiple opportunities for going outside, wear good mud shoes & bring rain jackets.
Members of your faith communities and other communities are most welcome, so please save the date and encourage others to do so, too.
Tentative Schedule
9:30 a.m. – Gathering Time, Coffee & Tea and Registration
10 – 12:30 Listening for God's heartbeat in the wilderness of relationships, faith community and the public sphere
– including time to dwell in Biblical stories of Israelites in the Wilderness and Jesus in the Wilderness
12:30 – 2:00 Lunch will be provided – Allow for reflection, enjoy lunch and make relational connections. Allows for at least 30 minutes of quiet time in sanctuary of the firs.
2:00 – 4:00 Listening for God's heartbeat in the wilderness of nature and our vocation as spiritual leaders
About Rev. Solveig Nilsen-Goodin: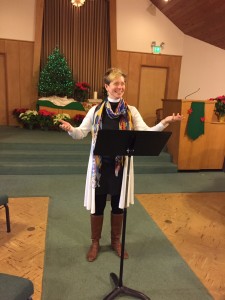 Rev. Solveig Nilsen-Goodin is the pastor of The Wilderness Way Community, a small emerging faith community, which seeks to ground and cultivate "wild" Christian disciples and fearless spiritual leaders to participate in the Great Work of our time the transition from industrial growth society to life-sustaining civilization. Solveig is on the leadership team of EcoFaith Recovery's Beyond Fossil Fuels "Grounding for Action" meetings and co-taught the "Organizing in the Biocommons" course. She is a spiritual director, published author and accomplished musician. She built a yurt in her back yard and continues to dream of the day when all Christian communities will worship in yurts.