EcoFaith "Table Talks" take place on an as-needed basis whenever our volunteer leaders desire to come together across their respective denominations and communities. They are held at many varied locations and offer volunteer leaders the opportunity to explore a particular them or issue through a variety of lenses and perspectives. EcoFaith's Practice for Awakening Leadership are a central part of such gatherings, especially Practice #3 of Telling our Stories and Practice #2 of Relational Conversations. These community conversations engage us in interpersonal and community-focused recovery even as we seek to discern how to facilitate ecological recovery that brings greater justice for all in the public arena.
 PAST TABLE TALKS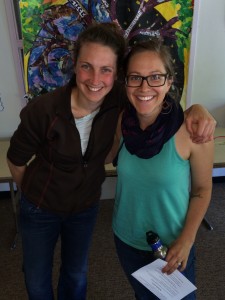 May 31, 2014: Discerning Between Failure and Opportunity: An Intern's Reflection on a Year of Discovery 
Tess Waechter is an EcoFaith Recovery intern who is a member of the Leaven Community. This Table Talk marked the culmination of her internship with EcoFaith Recovery. Tess shared honestly with us about the real experience and feelings that arose for her when the vision she had set for her internship turned out to be a dead end, at least for now. She shared her feelings, experience and the new possibility that eventually emerged. Through relational conversations she then gave us an opportunity to enter into the conversation as to how it is that having the courage to walk through our seeming failures is the very pathway to the new life and possibilities waiting for us. Read more about Tess and her internship here. 

May 22, 2014: Living Wisely in an Age of Foolishness: Permaculture as the Practice of Wisdom (Dave Pritchett and Lizz Schallert)
In this Table Talk, we explored the intersection of permaculture and the ancient wisdom of Scripture in hopes of animating new ways of life.  Taking our cue from the Hebrew sages, we explored how attention to Sophia–the divine Wisdom who is manifested in creation–helps us to live in ways that work with, rather than against nature to create regenerative and resilient communities.  By learning the patterns of creation and practicing permaculture, we can live wisely in a foolish age. Bill Mollison, co-founder of permaculture, reminds us of the "futility of revolutionaries who have no gardens, who depend on the very system they attack, who produce words and bullets, not food and shelter."
January 22, 2014: What can we learn at the intersection of our Movements with Rev. Anita C. Hill
Using EcoFaith Recovery's Practices for Awakening Leadership, we explored the following questions together, among others:
What can a faith-based movement for the recovery of human life and healing of God's creation learn from those who have been working for decades to expand church and society's inclusion of gay, lesbian, bisexual and transgender people?
How can movements for social and ecological justice benefit by drawing upon the practices of congregational organizing and the well-springs of our Christian faith? (Can a leadership development effort really have an impact when it is not a classic organizing effort?)
Rev. Anita C. Hill was an early pioneer in the movement for full inclusion of Lesbian, Gay, Bisexual and Transgender people in the Lutheran Church (ELCA). Pastor Hill has also co-chaired the Reconciling Works' committee working at the intersection of oppressions.
November 12, 2013: "Watershed Discipleship: A Paradigm Shift for Contextual Theology and Practice"
We explored a new/old way of mapping our context, using a bio-regional approach, looking at biblical rationale and contemporary practices. We'll invite several colleagues who are embracing this paradigm to talk about how it impacts their faith and witness. The Wilderness Way Community and EcoFaith Recovery co-sponsored the showing of monthly webinars with biblical scholar and activist, Ched Myers!
September 17, 2013 – "Capital or Community?" Jesus Parable of the De-fective Manager with Ched Myers held at Salt and Light Lutheran Church
The Revised Common Lectionary gospel reading for Sunday, Sept 22, 2013 was Luke 16:1-13, one of Jesus most difficult and illuminating parables. We'll examine how this story, understood in its social context, offers compelling advice for how those of us with privilege can and must "monkeywrench" the system on behalf of the marginalized. The Wilderness Way Community and EcoFaith Recovery co-sponsored the showing of monthly webinars with biblical scholar and activist, Ched Myers!
November 19, 2010: "Organizing in the Biocommons: An Introduction," led by Mr. Dick Harmon
Drawing on extensive study and 47 years of experience in broad-based organizing, Dick Harmon shared insights and opened conversation on these most pressing questions: "What is the common root of our economic and ecological crisis? What is our involvement in the civil war between two world-view stories: capitalism and biosphere? What are our reality-based alternatives? Are institutions such as congregations, schools and unions irrelevant in this civil war?"
January 28, 2011: "Biblical Sources for a Time of Ecological Crisis," facilitated by Rev. Brian Brandt
Rev. Brian Brandt led us in a time for devotion, conversation and reflection based on the article, "Love God, Love your Neighbor, Care for Creation," by Dr. David Rhoads, which explored often neglected or mis-appropriated biblical texts relating to creation.
March 25, 2011: "The River's Lament: A Lenten Ritual Walk with the Waters of theWillamette," led by Rev. Solveig Nilsen-Goodin, Ms. Trista Jolly and Dr. Ruth Nickodemus
This ritual walk led us around the perimeter of the University of Portland campus, hearing the story, the cries and the prayers of the Willamette Riveras told from the river's perspective.  In hearing this tragic story, we dared to ponder how it is that we have come to crucify Christ anew in the devastation of the waters of life here in the Willamette and in rivers and oceans the world over.
May 20, 2011: "The Cosmic Story," led by Dr. Ruth Nickodemus
Dr, Ruth Nickodemus invited us to experience a new (and very old) story that has the capacity to hold the reality of the ecological crisis and the deep faith tradition that is our heritage.  The story offered opened us to the unfolding story of our origins in the 13.7 billion year Cosmic Story.  The ancient themes of birth, death and resurrection; chaos and order; compassion and cooperation; hope and love; unfold in this Great Story.
August 27, 2011: "No Salvation Apart from Earth," led by Rev. Dr. Mark Brocker
Dr. Mark Brocker engaged us in conversations relating the works of Dietrich Bonhoeffer to the urgency that people be fully engaged in major ecological reform–turning from focus on one's self and one's own kind to love toward God, human beings and the earth.
October 1, 2011: "Evangelicalism and the Environment," led by Rev. Dr. Dan Brunner
Acknowledging that creation care has often been a "tough sell" within Christianity in general, and an even tougher sell within the broad Evangelical movement, Dr. Brunner led us in discussions on issues such as the authority of Scripture, the second coming of Christ, conversion and eco-justice, asking the question: Is it even possible to build bridges with those who are more theologically conservative?
March 21, 2012: "Redemption as Rehydration: The Eschatalogical Vision of Water in the Bible," a webinar by Ched Myers, hosted by Rev. Solveig Nilsen-Goodin
Through the vehicle of the webinar, Ched Myers engaged us in theological reflection on and biblical images from Revelation 21, the "river of the water of life," to discover how it renews the ancient prophetic vision of God's restoration of creation.
November 29, 2012: "Prophetic Protest over Deforestation, Biblical and Contemporary" a webinar by Ched Myers, hosted by Pastor Solveig Nilsen-Goodin
Prophetic Protest over Deforestation, Biblical and Contemporary. A look at Isaiah, the ancient imperial assault on the cedars of Lebanon, and today's forest martyrs. Biblical Scholar Ched Myers joined us via the Big Screen for this webinar in the Bartimaus Cooperative Ministries EcoJustice Theology Series.
May 8, 2013: "Organizing Beyond Fossil Fuels Exploratory Conversation" facilitated by EcoFaith Leaders Matt Guynn of OnEarth Peace, Solveig Nilsen-Goodin of Wilderness Way, and Matt Smith of Leaven Project
Tuesday, June 4th, 2013 – Authentic Exchange: How do we offer our gifts in the Beloved Community? A presentation and conversation offered by Turtle Farahat, EcoFaith Intern and you.