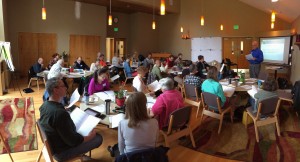 EcoFaith Recovery offers annual Leadership Retreats. These retreats allow us to spend the day embodying some of EcoFaith Recovery's core practices – leadership development, spiritual grounding and relational practices.
What do we do at the retreats?
Clarify the mission and vision of EcoFaith Recovery
Ground ourselves in the spiritual and relational resources needed to sustain this work,
Discover together how the Spirit is bringing new life through the eight Initiatives of EcoFaith Recovery,
Be inspired, uplifted, and energized for the important work ahead,
Engage new leaders ready to get more deeply involved in the great work of our time,
Learn about and offer input into a leadership development model for use, not only within the Initiatives of EcoFaith Recovery, but also within our own congregations and communities!
Who Should Come? If you have been active in any area of EcoFaith Recovery's work (Beyond Fossil Fuels, PCEF, Simply in Season, Organizing in the BioCommons, Preaching in the Biocommons, Internships, Mentoring, etc.) and are interested in deepening your engagement within the work of EcoFaith Recovery, this gathering is for you!
Interested in helping plan the next quarterly Leadership Retreat? Want to volunteer at the event? Email Quinn: office@ecofaithrecovery.org