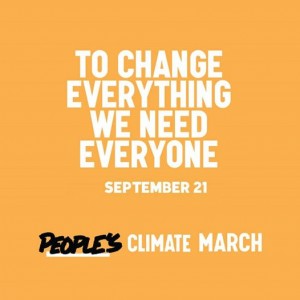 Disruption is a new film premiering September, 2014. It takes an unflinching look at the devastating consequences of our inaction on climate change and lays bare the science, the politics, the role of special interests and the civic stasis that have brought us to this social, moral and ecological crossroads. The film also takes us behind-the-scenes in the efforts to organize the largest climate rally in history to call for bold action that is strong enough to tip the balance as the UN world climate summit convenes in New York two days later. Learn more about the film here.
EcoFaith Recovery is proud to co-sponsor screenings of the film Disruption by the following faith communities who welcome us all to join them:
Sunday, Sept 7, noon: 
Leaven Commons –
 Childcare provided; feel to bring food to share. 5431 NE 20th, Portland, OR 97211
Friday, Sept 12, 7:30 pm: Community of Christ Church – 5170 NW Five Oaks Drive, Hillsboro, OR, 97214 (right next to the Hillsboro DEQ)
Wednesday, Sept 17, noon: Multnomah Friends Meeting monthly potluck/speaker series. Bring food. 4312 SE Stark Street Portland, OR 97215
Friday, Sept 19, 7:00 pm: St. Michael and All Angel' Episcopal Church (in the Nativity Hall) 1704 NE 43rd Avenue, Portland, OR 97213
Would your Oregon or Southwest Washington faith community like to host a screening at a different place and time?
If so and if you would like EcoFaith Recovery to co-sponsor your faith community's screening and post it on this page, please email office@ecofaithrecovery.org. You can also do the following:
* Download customizable flyers for your film screening here.
* Register with 350.org to host a screening so they can put it on their website.
* Learn more about the film the film Disruption here.
What is the People's Climate March? 
On September 21st, in New York City, there will be an unprecedented climate mobilization – in size, beauty, and impact. As heads of state convene in New York City for a historic UN summit on climate change, with our future on the line, we will take a weekend and use it to bend the course of history.
What is the People's Climate March in Portland?
 A march and rally of thousands of Oregonians in solidarity with the main march and rally that will take place in New York City. The Portland mobiliziation will take place on Sunday, September 21st with a rally and march at 3pm at Portland Waterfront Park's South Bowl.
Join other people of faith at the People's Climate March in Portland