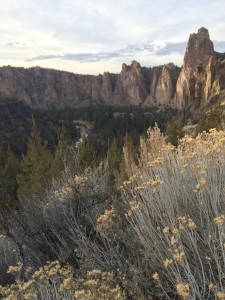 When: Saturday, April 9th, 2016, 9:30 am to 4:00 pm
Where: St. Andrew Lutheran Church 12405 SW Butner Rd, Beaverton, OR 97005
Costs: FREE & lunch included
RSVP by: Wednesday March 30th, 2016
EcoFaith Recovery invites you and your faith community to "Return to the Rhythms of God" through worship, retreats, and practice groups focused on this theme in 2016!The retreats will be held at and in partnership with St. Andrew Lutheran Church, Beaverton. An overview of all three retreats is here.
This retreat is offered at no cost to participants due to a Lilly Grant St. Andrew Lutheran Church received designating monies for this purpose.
About the April 9th retreat:
The second retreat is on Returning to the Rhythms of God by Breathing In, Speaking Out, and Watching for the Wind.
Bishop Dave Brauer-Rieke of the Oregon Synod – ELCA invites us into imagining the Breath of God moving into, out of, and all around our every thought and action. Breath gives life and creates a common exchange between all beings. Breath grounds us and gives us voice. Our words create as we speak potential into possibility  and with an Easter focus we will wonder at the miracle of Jesus "breathing his last and waking to breathe, and speak, again."
"By the word of the Lord the heavens were made,
and all their host by the breath of his mouth." Ps 33:6 NRSV
Tentative Schedule
9:30 a.m. Gathering Time: Coffee, Tea and Registration
10–12:30"Are there words without breath? "Is there breath without the Word?"
We will explore the Scriptures, and the story of Easter, to discover the creative, life-giving relationship between breath and the spoken word.
– Why does every Gospel tell us so clearly the Jesus "breathed his last at the crucifixion? And what does it mean to gasp our way into a new life?
12:30–2:00 Lunch will be provided  Reflection, connection, food and friends. There will be at least 30 minutes for breathing-in the fragrance of St. Andrew's sanctuary of the firs.
2:00–4:00"Do angels breath? "Can they fly without an atmosphere?"and other deeply religious questions! Our afternoon session will focus on a theology of incarnation, that is of "spirit/breath" becoming flesh. Why Christians insist that resurrection has to be body and not just spirit. Why we are, and always will be, earth creatures. Why Christian vocation leads us to speak truth, touch, feel and breath!
Then God said to me, "Prophesy to the breath, prophesy, mortal, and say to the breath: Thus says the Lord God: Come from the four winds, O breath, and breathe upon the slain, that they may live.– Ezekiel 37:9 NRSV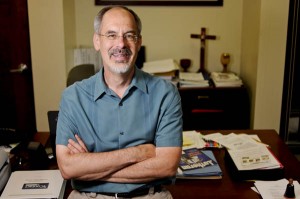 About Bp. Dave Brauer-Rieke:
Bishop Dave Brauer-Rieke of the Oregon Synod – ELCA took his first breath, and has lived most of his life, in the Pacific Northwest. He says his sense of self has been "shaped by coastal winds, swaying cedars and lots of words.
Serving as pastor of Christ the King Lutheran Church in Milton-Freewater, OR for 18 years, Atonement Lutheran Church in Newport, OR for 2 years, and now as bishop of the Oregon Synod for 8 years, Bp. Brauer-Rieke represented the church for a time on the governor's Climate Change Commission. He has a keen interest in the work of Eco-Faith Recovery, and brings a poet's heart, a cyclist's joy, and a Creation Theologian's framing to the work of Christian ministry today.
Download a flyer for this retreat