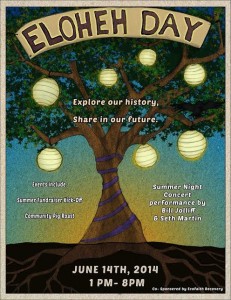 Saturday, June 14
1pm-8pm
Learn more about Eloheh Farm, a new faith-based natural/organic regenerative farm started by Randy and Edith Woodly. 
Enjoy live music and food in Newberg, OR.
Eloheh Day is a leadership project of EcoFaith intern Matt Cummings who is exploring the intersection of environmental justice, permaculture, theology, and social justice. Eloheh Day is sponsored by Eloheh Farm and co-sponsored by EcoFaith Recovery.
Let Matt know you are planning to attend by registering here. 
Learn more about Eloheh Farm here. 
Where:
13510 NE Roedel Rd
Newberg, Oregon 97132
When & What:
1:00-1:30  Welcoming
1:30-2:30 Settler-native history and breakup group discussion
3:30-4 Farm tour.
5-5:45 Edith and Randy talking about the history and vision of Eloheh
15 minute break.
6-7 Food & Music