Where:St. Andrew Lutheran Church (12405 SW Butner Road Beaverton, Oregon 97005)
When: Saturday, October 3rd from 9am – 2pm
RSVP: In order to help the retreat organizing team please RSVP on or before Sunday, September 27th.

Register here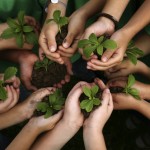 What will we do at this retreat:
As a result of expanding leadership in our initiatives and the strengthening of relationships among an increasing number of individuals and faith communities, the core team invited several EcoFaith leaders to participate in a process of evaluating how our current methods of fundraising are either supporting or hindering our capacity to connect in deeper ways and considering how we will gather resources to support our work in the coming year as we take courageous public action for the recovery of human life and the healing of God's creation.
Through this process, we've discovered a few things –
First, talking about money is hard. In the same way that scheduling a one-to-one instead of sending an email is hard and cultivating a new spiritual practice in the midst of a busy life is hard.
Second, our fear of talking about money directly benefits the powers and principalities who use our money to degrade the land and support systems of oppression.
Third, we come from a long line of prophetic leaders who have used stories grounded in their relationships with one another and with resources to critique and confront empires. If we are to do the same, we must know and be able to tell our own stories.
We will gather to talk about how our relationship with money, both as an organization and as individuals, impacts our work as organizers and leaders through:
Engaging in the spiritual practices of song and spending time in the natural world
Telling our stories, the stories of those who have come before us with resource narratives rooted in liberation and abundance, and the story of EcoFaith's own financial journey
October Leadership Retreat Agenda 
9:00am Gathering, Welcome, Introductions
9:30am Biblical/Theological Grounding Discussion
10:15am  Break
10:30am  Fundraising 101
10:50am Emails
11:50am  Lunch Outside in the Sanctuary of the Firs
12:30pm Story Telling, preparing for phone calls
1:30pm Evaluation and Grounding
Please bring a sack lunch and a snack to share for a 'snack-luck'.
Childcare is available if needed. If you are interested in carpooling put that on your registration form.
Who should come:
We encourage you to bring a partner or cohort from your faith community so you may take your learning and stories back to your communities and congregations together.
Want to help with hospitality, or set-up and clean-up? Email Rachael at office@ecofaithrecovery.org.