A presentation by and conversation with author Kristin Ohlson
Sunday, November 24, 2019
9:45 a.m. – 10:45 a.m.
St. Andrew Lutheran Church
12405 SW Butner Road, Beaverton
Free and open to the public!
There is hope! In her book The Soil Will Save Us, journalist and bestselling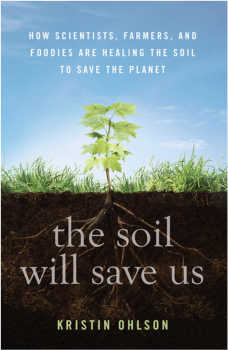 author Kristin Ohlson makes an elegantly argued, passionate case for "our great green hope"—a way in which we can not only heal the land but also turn atmospheric carbon into beneficial soil carbon—and potentially reverse global warming. In the process we will be helping to restore some of the 80% of carbon that has been lost from the soil over thousands of years of poor farming and ranching practices and especially from modern industrial agriculture.
St. Andrew Lutheran Church, Beaverton is the first pilot congregation in EcoFaith Recovery's Community Carbon Campaign. Learn more about the Community Carbon Campaign or RSVP to this event.