There is no single or right way to engage these Practices for Awakening Leadership. Because experience has shown that our capacity for leadership recovers much more fully when engaging these practices in the context of a community of support and accountability, we encourage you to simply find two or more others or any existing team/group that is interested. Then just start! (Or come out to any EcoFaith Recovery Initiative gathering to get more comfortable engaging the Practices with others if you prefer.)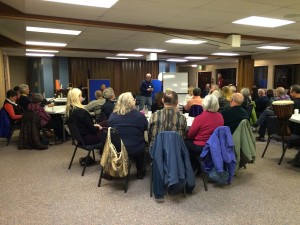 Sample Meeting Format for Using the Practices
(Make sure everybody has a copy of the Practices for Awakening Leadership so leaders can reference which Practice the group is engaging in whenever possible. Each Corresponding Practice is in Parenthesis below.)
0:00 Lead a Spiritual Grounding Exercise (Practice #1). Ideally, this Practice would connect people to this meeting's purpose.
0:10 Sharing of a Story (#3) – One Person shares a brief story about his/her experience related to this meeting's purpose or any one of the Practices (revealing how any Practice grounds or facilitates public action for the recovery of human life and healing of God's creation.)
One-to-One Conversations (#2) in response to the story that was just shared. [20 minutes is even better!]
Full Group Sharing  (#2) Briefly share any significant insights that arose during the one-to-ones.
Rhythms of Engagement (#4)  Indicate whether this meetings primary focus is Preparing for Action, Engaging in Reflection, Participating in Evaluation, or Celebrating Sabbath. Proceed forward with that agenda. [Plan for more time here and a longer meeting, if desired.]
1:15 Read aloud one or more of the Practices from Mentoring (#5) or Conscious Leadership Development (#6). Discuss together how those present would like to engage that Practice in the coming week.
1:25 Spiritual Grounding Practice to conclude (#1)
1:30 Close the Meeting
Sample Congregational format for using the Practices
H.O.P.E. – St. Luke Lutheran Church
Meeting agenda
Jan. 21, 2015
Schedule for the Evening
5:20-5:30pm: Gathering/Greeting time and setting out the pot luck supper.
5:30-6:00pm: Pot luck supper.
5:50pm: Announcements (6 mo. plan, next meeting date, petition & information table, alternate locations, $2 basket request, first Sat. 1pm coffee meetings, 2 & 6 mo. group evaluations).
5:55pm: 5-minute notice.
5:57pm: Soft piano music.
PART I: GROUNDING
6:00 – 6:07 Michael; welcome, all stand. Leslie & Dan: 4 min. opening song. MH; a stand- up look at who's present — hands up introductions (raise your hand if …) [7 min. total]
6:08 – 6:14 Pastor Robyn Hartwig, "Our Foundation; A brief history of EcoFaith Recovery[6 min.]
6:15-6:23 Getting to know you: MH directs 1-1 introductions: Listen. Share. Move on. Move to a spot across the circle. Pair up with someone you haven't met; one talks one listens switch,  change persons at prompt; hello, my name, church affiliation, eco-org affiliations [8 min.]
6:24-6:26 Climate Change Duality: Michael ; conclusion of Bill McKibben speech, etc. [2 min]
6:27-6:29 Focus on hope: Julie; reciting Wendell Berry's "A Vision" (2 min.)
6:30-6:32 MH; Some thoughts on hope. [2 min.] What would one source be for you?
6:33-6:38 MH: Stand, move across circle. Form groups of 4 to 6. Sit. Appoint facilitator & recorder, to takes notes. Ask each person a chance to share; "One source of hope for me is"… [5 min.] Raise hands when finished.
6:39-6:45 Michael asks each group to choose 1-2 sources that resonate most. [1 min.] In turn, each facilitator verbalizes them as Kirsten records answers. [2 min.] Michael asks all present to raise hands for their top 2, as Kirsten records tallies [2 min.]. Michael announces break, asks recorders to give notes to Kirsten [1 min.].
6:45-6:55 Break [10 min.]
PART II: ACTION/REFLECTION/EVALUATION
6:53-6:55  Music to reconvene. Leslie & Dan; "Keep your lamps" 2-4 verses [2 min.]
6:56-7:04 TEACH IN: Lenny: OCD, Climate class & Dick intro [1 min.]
Dick Roy: One model of how things change [6 min.]
7:05-7:06 Michael; Passing the basket. Explaining uses of donations [1 min.]
7:06-7:15 MOVEMENT MOMENTS: Recent goings on: Brief comments from those present at the LGN Terminal hearing, the No KXLRally and the CONNECT Oregon meeting. Others? [8 min.]
PART III: NEXT STEPS/CLOSING
7:15-7:17 Save the date; Upcoming REGIONAL & LOCAL opportunities: Bonnie: [2 min.]
7:18-7:20 Reminders; Email follow up evaluation. Last Sat. coffee; 1/31. Next HOPE; 2/18. [2 min.]
7:20 – 7:30 Circle up: Final reflections:[4 min.]
Song: Leslie & Dan; Bambalela [5 min.]
Closing prayer: Barb [1 min.]
Sample Grounding For Action format for using the Practices
Beyond Fossil Fuels"Grounding for Action" Meeting
December 2, 2014

6:00 – 6:30 Potluck
PART I: GROUNDING
6:30 – 6:35 EcoFaith Opening – Eric
6:35 – 6:40 Mingle – Eric
6:40 – 6:50 Spiritual Grounding/Prayers/Song – Dan
6:50 – 6:55 Grounding in Sources of Strength – Solveig (Practices for Awakening Leadership)
6:55 – 7:00 Grounding in the Movement – Lenny
7:00 – 7:05  Sharing gratitude/signs of hope – Eric
PART II: ACTION/REFLECTION/EVALUATION
7:05 – 7:50 Group Sharing – Eric leads
7:50 – 8:00 Offering and Announcements – Eric
8:00 – 8:10 Break
8:10 – 8:35 Reflection/Evaluation – Solveig and team
8:35 – 8:45 Evaluation and Discernment – Solveig and team
PART III: NEXT STEPS/CLOSING
8:35 – 8:45 Evaluation and Discernment – Solveig and team
8:45 – 8:50 Next Meeting Preparation – Eric
8:50 – 9:00 Closing Prayers/Song – Chris
Other Possible ways to practice together include:

 Working with one of the six categories per month by engaging a single one of its three practices for each of the first three weeks and using the last week to focus on the overarching category as a whole. This would enable you to move through all six categories twice every year;

Beginning (or ending) a meal or a meeting by engaging in any single practice;

 Engaging a different practice as a family at the beginning or end of each day;

Please send feedback and stories of ways you have engaged these practices here so we can share your story on our website. Thank you!