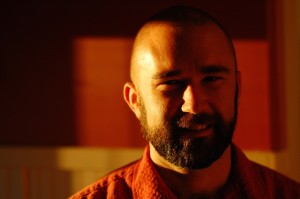 My childhood was divided between growing up in the foothills of Mt. Kenya in East Africa as a missionary kid, and high school years spent in Little Rock, Arkansas. More recently, I came from Indiana with my partner, Lizz Schallert. Our three years in Indiana were spent in intentional community with friends as we learned homesteading from our mentors at Joyfield Farm, a group of Anabaptist activists who have been homesteading, market gardening, and peacemaking for 30 years. We are thankful for our time in Indiana, but were glad to leave the flat cornfields for the Cascadian mountains. Since our move in March of 2014, we have been glad to call Wilderness Way community our spiritual home as well as our deep kin here in Portland.
During our experience homesteading, permaculture, a design science of integrating humans into their landscape in resilient and regenerative ways, captured my imagination. Permaculture has given me tools for thinking in a holistic way how to create communities that live in their particular ecosystem as a part of it, rather than by pretending to be separate from it. With the tools provided by permaculture design, my twin academic pursuits of medicine and theology find common ground in helping faith communities heal our scarred landscapes and reify our disembodied theologies.
I was grateful to get connected early this year with EcoFaith Recovery, and amazed at how it so naturally fits with my own concerns. As a Physician Assistant working in Addiction Medicine, I take seriously the call for recovery from consumerism that is destroying both the environment and our sense of self. As a permaculturalist and theologian, I believe deeply that our faith must heal us as well as our polluted watersheds.
If anyone is interested in having me speak or do permaculture design work for you or your faith community, please email me at dmpritchett@harding.edu.
Dave completed his internship in April 2015.
Blog posts by Dave:
Columbia River Watershed Discipleship: Faith and the Ecology of Liberation – November 29, 2014
Four Scenarios – March 16, 2015
Genesis 1 and Permaculture – March 30, 2015