Connect with Communities Engaging in Eco-Reformation
---
Community of ChristChurch – Back 40 Project
5170 NW Five Oaks Drive,
Hillsboro, OR 97124
http://www.comchristchurch.org/
In an attempt to utilize unused land on the church's property, Community of ChristChurch decided to partner with Village Building Convergence to transform their back 40 by 300 foot strip of property. They created this area into a beautiful food forest/permaculture garden, in hopes of also cultivating an inviting and community building space. Learn more about the project here.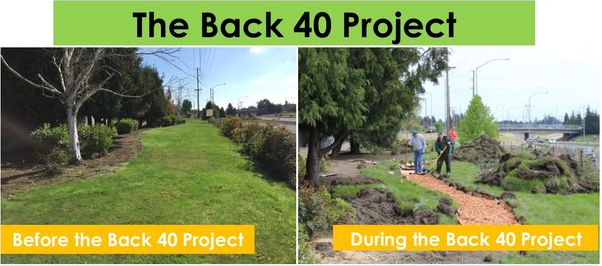 ---
Beginning in 2017 and throughout the year, we will list public projects sponsored by faith communities and denominational bodies of the Pacific Northwest in celebration of the Eco-Reformation and its longed-for impact upon the next 500 years of earthly life. Faith communities and denominational bodies are invited to please email the name and a short description of your projects to office@ecofaithrecovery.org along with the corresponding weblink to that project on your faith community or denominational website, if available. Please include dates if your project will be time limited. Thank you for your leadership within the Eco-Reformation of 2017 – 2517!
What can we list for your church here beginning January 2017?!